Veterans Honored at Annual Breakfast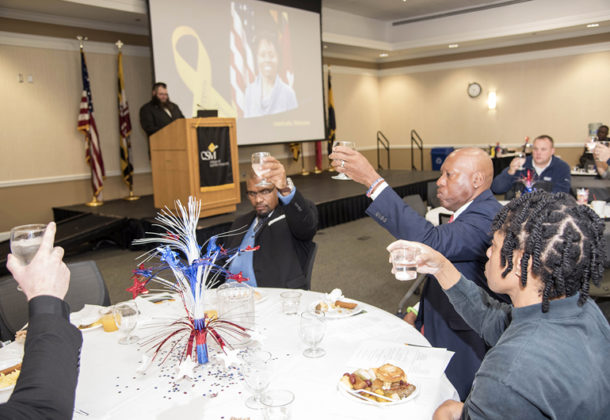 Participants share a toast to prisoners of war at the annual Veterans Breakfast and Open House held at the College of Southern Maryland's La Plata on Campus on Nov. 9.
John O'Connor, St. Mary's County commissioner, did not need to explain a whole lot to his audience at the annual Veterans Breakfast and Open House on Nov. 9 at the College of Southern Maryland's La Plata Campus. The speaker served in the US Army and when he talked about the bond shared among people in the service, the breakfast attendees knew exactly what he meant.
"We're loyal to one another. We're loyal to our country," Mr. O'Connor said.
Mr. O'Connor shared stories of his best friend and "battle buddy," Shawn Winn, to demonstrate the bond. He talked about how they met, and then watched out for each other, joked in the face of danger, and supported one another during injuries and recoveries. "After I was shot, he pulled me out," O'Connor said. "In service … you don't have to know where that person is, but there's a bond, an unspoken bond, there."
The connection between veterans was highlighted repeatedly by students at the breakfast who are involved in the CSM Student Veterans Organization, one of the event's sponsors. Fostering that connection at CSM is one of the ways the college supports its 730 students who use veteran benefits to attend.
The CSM Veterans Resource Center, at the La Plata Campus, is a critical gathering point for veterans. It is not only a place where veterans can meet and relax or work on their classes at one of the computer stations; it is also a place where students can get information about benefits and programs available to veterans on campus. CSM has a full-time veterans affairs coordinator, Robert Henry, USN (retired), who helps students at three of the CSM campuses.
One guest at the breakfast, Michael Arnaud, 47, of Huntingtown is a homeland security major at CSM. He served eight years in the US Army and National Guard and said he appreciates the resource center at CSM.
"It's a place where we can go and do our school work and we're with other veterans," Mr. Arnaud said. "It makes the college experience easier." When he is at the center or anywhere with other veterans, he is with people who understand him, Mr. Arnaud said.
"They're my brothers. It's easy to establish that rapport. It's difficult to explain," he said. He added that in the service soldiers are taught to rely on each other so everyone can be successful together. "What gets you through is your guy on your left and the guy on your right."
Jeremy Foster, 33, of Waldorf leads the CSM Student Veterans Organization as president and works to continue the supportive atmosphere at the college. Mr. Foster served in the US Army for 12 years, including three deployments in the Middle East, and is now a cybersecurity student at CSM. Mr. Foster also works for the Veterans Administration, helping to educate veterans about their benefits.
He said when veterans return to college or to start college after leaving the service, there is a "readjustment." Veterans are often older than other college students and there is definitely an experience difference, he said. Mr. Foster's work with other student veterans is a way for him to serve and help to ease their transition.
"For me, I've always wanted to help and give back," Mr. Foster said.
CSM President Dr. Maureen Murphy spoke at the breakfast, thanking the faculty, students, and visitors who are veterans. "Your service has protected us, and we're grateful," Dr. Murphy said. "Service comes at a sacrifice, and we know that."
After the breakfast and open house at the CSM Veterans Resource Center, the college showed appreciation to its veterans with a Veterans Day Recognition Ceremony sponsored by the student association at the Prince Frederick Campus on Nov. 10. The event recognized individuals who have served with a ceremony, followed by a brunch.
CSM is the fifth largest institution that serves veterans in Maryland. It is approved by the US Department of Veterans Affairs and the Maryland Higher Education Commission, which allows eligible veterans, service members, and dependents to receive VA educational benefits for credit certificate and associate degree programs. Designated as a Military Friendly School by Victory Media, CSM is rated as a "Top School" in the Military Advanced Education & Transition Top Colleges & Universities Guide 2017.
For information about CSM veteran and military support services, email [email protected] or visit the veterans page on the CSM website.
For more about the College of Southern Maryland, visit its Leader member page.