UCLASS RFP Release Imminent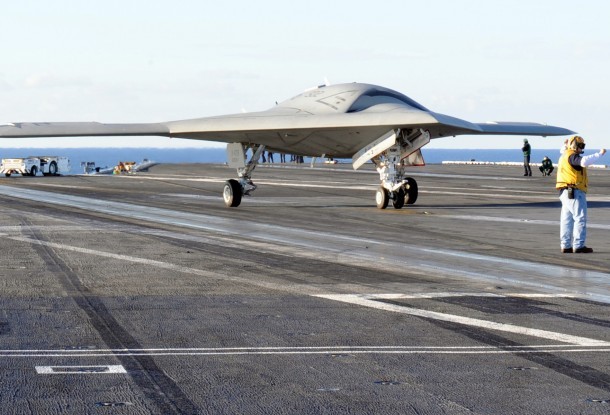 Morning Coffee is a robust blend of links to news around the internet concerning the Naval Air Station Patuxent River economic community. The opinions expressed here do not necessarily reflect those of the Leader's owners or staff.

The Defense Acquisition Board will meet Sept. 10 to define the future of the controversial Navy UCLASS, reports Breaking Defense. Among the controversies is the Navy's decision to use unmanned aircraft alongside piloted craft. The Navy has received feedback from  Boeing, Lockheed Martin, Northrop Grumman and General Atomics, which hold UCLASS development contracts, and readied a RFP to be released after three weeks of DoD discussions, said RADM Mat Winter, NAVAIR head of unmanned aviation. The RFP will not be made public until the contractors have submitted their proposals sixty days later.
A prototype Boeing UAV surveillance aircraft has received FAA approval and is cleared for global sales, reports C4ISR & Networks. The Enhanced Medium Altitude Reconnaissance and Surveillance System Risk Reduction Prototype, a modified Beechcraft King Air, was awarded a Supplemental Type Certification.
The Pentagon is denying the results of a recent study that concluded 25 percent of military households use food banks, according to Military Times. The nonprofit Feeding America found that one out of four households with a current military member is being served by the group's network of 200 food banks spread across all 50 states. Jessica Wright, DoD personnel chief, said, "I dispute that number … I think that's totally incorrect."
USNI News reviews the history and final disposition of American aircraft carriers that outlived their military usefulness. The flattops are the foundation of US seapower but when their last deployment is over, sometimes they're barely worth the trouble to tear them down.
The best Congress will do this year on spending bills is pass two huge government-wide measures, reports DefenseNews. The Senate is unable to act on 2015 appropriations bills and time running low, political and defense observers are trying to determine how lawmakers will handle up to three government shutdown threats in the next seven months. Senator Richard Shelby, (R-Ala.), believes both chambers will pass a continuing resolution in September to keep the DoD and other federal agencies operating while lawmakers campaign in October and early November.
Senior naval leaders called for increased innovation and shared the secrets of their success during NAVAIR's fifth annual Acquisition Leadership Symposium held recently at St. Mary's College of Maryland, according to NAVAIR News. The "Supporting the Current and Future Capabilities of Naval Aviation" symposium provided a forum for leaders to share their insights with NAVAIR acquisition professionals, who are responsible for managing product and service procurements for the Navy.
The RAND Military Workplace Study, a biennial survey that tracks sexual harassment,  sexual assault and other workplace issues in the US military, is being conducted on behalf of the Pentagon, according to Stars and Stripes. Service members have begun receiving emails or letters inviting them to participate in the confidential, web–based survey.
The Navy has published the results of special and general courts-martial tried in July, reports Navy Times.