UAS Test Site Serves as Entrepreneurial Resource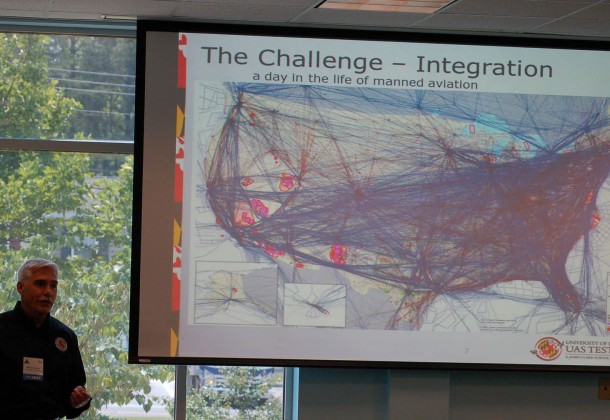 Posted for
The Patuxent Partnership
From talk to fruition to the future, The Patuxent Partnership Executive Director Bonnie Green recapped, in a briefing earlier this month, a fast and nearly unfaltering upward trajectory for unmanned automated systems in Southern Maryland.
Today Southern Maryland could be on the brink of an economic boon not seen since NAVAIR moved its headquarters to NAS:Pax River, maybe not since Pax River first arrived on the scene. A briefing co-sponsored by TPP and St. Mary's County Chamber of Commerce encouraged entrepreneurs to step forward and join the boon.
The idea of an unmanned, autonomous aviation test site was little more than talk when TPP first recruited Matt Scassero to lead an initiative in response to an FAA request for UAS test site proposals. In a few short years it moved to fruition and today the University of Maryland Unmanned Aircraft Systems Test Site is in operation at the St. Mary's County Regional Airport in California, MD, Mr. Scassero serving as director.
The future, at least one good future for Southern Maryland, is economic development and education centered on unmanned and autonomous research, development, and testing. "We even say drones," Mr. Scassero told 50 attendees as he opened a rapid-fire, 90-minute, PowerPoint of all the UMD UAS Test Site offers to bolster opportunities for civil and commercial development of unmanned and autonomous technologies.
"We're focusing on bigger rather than small," he said. "Everyone can do small."
Unique among other test sites,  the St. Mary's County Airport is permitted to fly manned and unmanned aircraft together. And that's a big issue.
The test site facility and its capabilities are available to help launch new technologies that need this type of testing. There are different ways to fly, there are different arrangements possible between the test site and potential partners, but there is no doubt in Mr. Scassero's delivery that joining the site's effort will "give you value."
Their goals are these:
Establish UMD as the premier university advancing unmanned aircraft systems in the US, with an international presence.
Catalyze economic diversification, strengthening our UAS industrial base.
Conduct safe, efficient, effective operations in support of our mission.
Create and deliver products and programs in support of workforce development and higher education goals.
Unmanned and autonomous systems are anticipated to become a leading economic base, growing in importance to the military, in agriculture, for public safety, communications, and a myriad other areas.
The resources Maryland is committing to work with the FAA integrating UAS into the national airspace are impressive, Mr. Scassero said. The community's hope is that the presence of the site will draw a consortium of successful technologies and foster their development into the marketplace. It is the test site's goal to become self-sustaining from research fostered on-site, and to that end they are recruiting for people and companies and partners of all kinds.
He did not say how much the University of Maryland has committed to this UAS Test Site facility, located within its renowned James Clark School of Engineering, but did say $500,000 in contracts with the site have already been signed.
A hangar is under construction for UAS testing at the airport, firms are committed to locating offices at the airport, defense contractors already in the area are branching farther into UAS, and an autonomous bulldozer is clearing the site for more. The blade, Mr. Scassero confirmed, is autonomous and drives the correct grading of the site for construction.
The message was one of speed.
Kim Mozingo, communications coordinator for the UAS Test Site, wrapped up with a list of a few of the areas where the UMD UAS Test Site and staff can organizations can help:
Help research flight requests Pathfinder research Evaluate airworthiness Apply for a COA Pilot services Leased hangar space and laboratory facilities Testing Executive collaboration and research agencies  
For more information about UMD UAS Test Site visit their website here. UMD UAS Test Site is located at 44200 Airport Road, Suite A
California, MD 20619;  240-309-4UAS.