TPP Establishes CSM Pathways Scholarship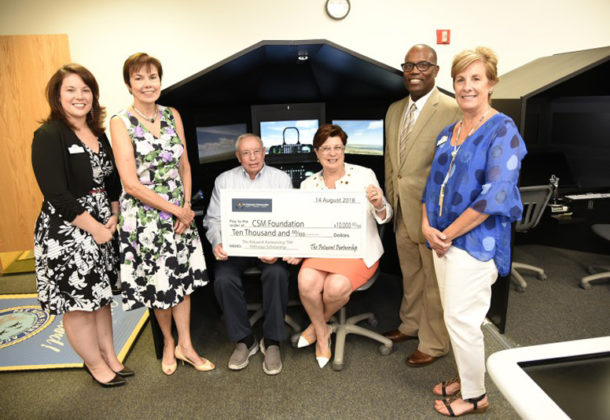 Leaders from The Patuxent Partnership present the College of Southern Maryland with $10,000 toward the TPP Pathways Scholarship Fund. From left are Chelsea Brown, CSM Director of Development; TPP Executive Director Bonnie Green; TPP Board President Gene Townsend; CSM's President Dr. Maureen Murphy; CSM's Vice President of Student Equity and Success; TPP Board Member and Chair of TPP Academic and Outreach Committee Dr. Tracy Harris; and CSM Vice President of Advocacy and Community Engagement Michelle Goodwin.
College of Southern Maryland has received a large gift from The Patuxent Partnership, or TPP. The group recently presented $10,000 to the CSM Foundation to establish a TPP Pathways Scholarship Fund for students who are interested in pursuing a career in cybersecurity or science, technology, engineering, and mathematics fields.
TPP's new scholarship will provide help for tuition, books, fees, and other related supplies for CSM students who are part of the Southern Maryland Pathways Program which also supports STEM workforce development at Naval Air Warfare Center Aircraft Division.
"We are grateful for the generosity of our partners through The Patuxent Partnership, and especially the support this will provide for our students in the Southern Maryland Pathways Program," said CSM President Dr. Maureen Murphy in a press release from the college. "This is a win-win for everyone and especially for CSM's students who are pursuing their careers in STEM fields and to support Naval Air Station Patuxent River in growing the STEM workforce for NAVAIR [Naval Air Systems Command] and NAWCAD."
The new TPP Pathways Scholarship Fund will help students who plan or have begun to pursue an associate degree in the college's engineering curriculum and then transfer with junior status to University of Maryland, where they will earn a bachelor's degree in mechanical engineering without leaving Southern Maryland. Students attend classes at the UMD A. James Clark School at the Southern Maryland Higher Education Center  in California, Md.
"Community colleges are the greatest vehicle for workforce development within our community, and by investing in students at the College of Southern Maryland, The Patuxent Partnership is not only supporting STEM education, but even more we are creating access, pathways and connections for these students to work with the Navy once they have completed their degree program," said TPP Executive Director Bonnie Green at the check presentation.
As part of the Pathway Program, students can do an internship with NAWCAD, possibly leading to employment upon successful graduation and completion of all Pathway Program requirements. NAWCAD and UMD have established a state-of-the-art Engineering Laboratory that is dedicated to supporting the junior- and senior-level engineering courses at the higher ed center.
TPP has now donated more than $70,000 to STEM programs at the college, including sponsorship of the CSM Talons Robotics team at the national competition in Louisville, Ky., this past April.
To be eligible for the Pathways Scholarship, the student must: be enrolled as a full-time CSM student; be a resident of Calvert, Charles, or St. Mary's County; be a graduating high school senior or have a high school diploma or its equivalent; be accepted in the Southern Maryland Pathways Program in Engineering, majoring in electrical or mechanical engineering at the University of Maryland A. James Clark School, or a regional undergraduate program for computer science or cybersecurity; maintain a minimum 3.0 GPA, with no grade lower than a B in designated courses like Calculus II and Physics, and no grade below a C in other courses.
Accepted students can receive up to $5,500 per year in scholarship funds for up to two years, as long as they continue to meet the eligibility requirements and remain in good standing.
For more information on scholarships at CSM, visit the college online. For information on the CSM Foundation and establishing a scholarship at CSM, visit the Foundation online.
For more about the College of Southern Maryland, visit its Leader member page.
About The Patuxent Partnership
TPP fosters collaboration and the sharing of knowledge and expertise across a diverse network that includes government, industry, and academia. TPP also supports STEM education and workforce development within the local community including hosting programs of interest to NAVAIR, NAWCAD, and the broader DoD community.
To learn more about The Patuxent Partnership and its programs, visit its Leader member page.