Students Show Off Computer Skills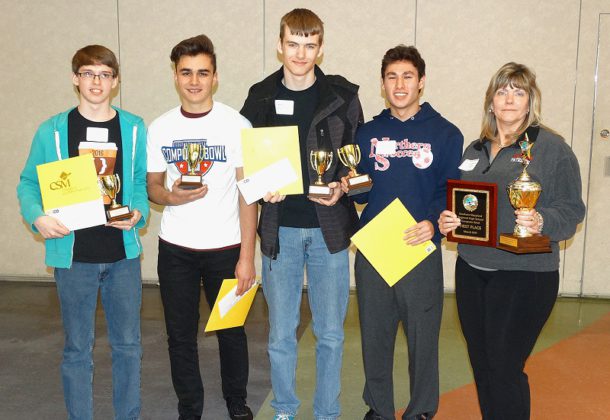 First-place team from Northern High School in Calvert County: From left, Justen Serrao, Kyle Hurley, Will Longsworth, Michael Lindsey, and coach Victoria Longsworth.
The 28th annual Southern Maryland High School Computer Bowl was held March 4. Sponsored by Southern Maryland Electric Cooperative, the competition underscores the importance and value of computer skills for students who plan to become proficient in technical and industrial fields. With information technology embedded in daily life, electric utilities such as SMECO depend heavily on computerization to help keep the lights on for their customers.
This year's Computer Bowl was held at North Point High School in Waldorf. It featured nearly 70 young computer experts in a test of their coding skills and technical knowledge.
Sponsors for the annual competition are SMECO, the College of Southern Maryland, Booz Allen Hamilton, and the public school systems of Calvert, Charles, and St. Mary's counties.
Eighteen teams from eight high schools in Southern Maryland faced the challenging literacy and programming tests in the Computer Bowl.
In the first round of the competition, students took a written test of their knowledge of computer history, hardware, and software. In the second round, teams of three to four students created computer programs to solve specific problems, using programming languages such as Java and Python.
Charles County Public Schools equipped each team with two laptops for the programming portion of the competition.
Teams from two high schools in Calvert County took the top four spots in the competition. In first place was the Northern High School team of Kyle Hurley, Michael Lindsey, Will Longsworth, and Justen Serrao, coached by Victoria Longsworth. Huntingtown High School had teams finish in the next two places. Brian Holt, Brandon Jackson, John Murray, and Zach Sims were on the second-place team, and Brayden Archer, Kirsi Arnesen, Emily Desverreaux, and Jimmy Nguyen took third place. Tom Currier coached both teams. In fourth place was the Northern team of Micah Calderwood, John Heide, Jim Kong, and Tommy O'Brien, with Victoria Longsworth as the coach.
Winners received plaques and trophies. SMECO awarded gift cards to the top four teams. The College of Southern Maryland also provided the first-place winners with performance awards.
Booz Allen Hamilton employees Janet Bondelid, Alan Cooper, Janet Cooper, Carrie Dalton, Whitney Dillard, Chad Kilgore, Laurie Lawrence, Justin Mehl, and Doug Sanborn served as judges for the competition, along with Joe Burgin of the College of Southern Maryland. Lora Bennett and John Stine with Charles County Public Schools developed the literacy and programming tests used in the competition.
To learn more about SMECO, visit its Leader member page.