New Spring Menu Comes to The Tides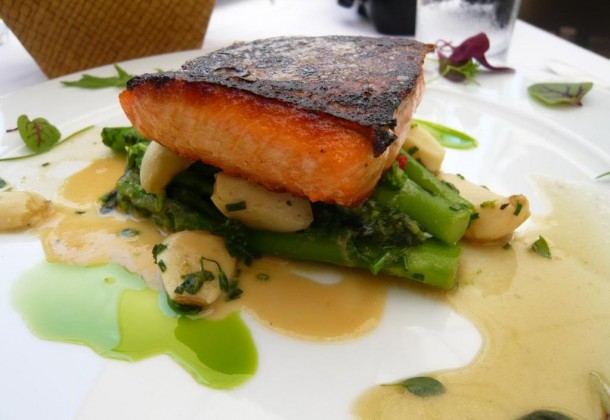 Posted by Wildewood Group
Leading Edge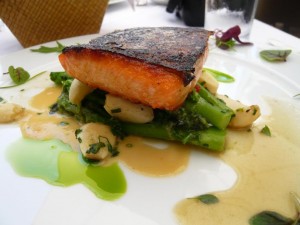 The Tides restaurant in Lexington Park, Maryland will be introducing its Spring 2012 menu tomorrow along with several debut dishes and a new catering service.
"The chef switched a lot of stuff up," said manager Sean Drury, explaining that the restaurant changes its menu four times a year to take advantage of seasonal ingredients.
Both the lunch and dinner menus have been updated. Diners will still be able to find favorites such as the crab dip, cheese plate and Ahi tuna appetizers. But they are now joined by slider hamburgers made with Wagyu beef, an American version of the hallowed Japanese Kobe beef, topped with caramelized onions and bleu cheese.
Fish-lovers now have the option to try Arctic char, a meaty fish similar to salmon, but lower in fat. The kitchen is offering char in several ways – as the centerpiece of a spinach salad with sauteed balsamic vegetables; as part of a warm salad; as the herb-crusted star of a hearty entree; or grilled and placed on a sandwich with bacon, spinach, red peppers, Parmesan cheese and dill aioli.
Drury said the kitchen is presenting the fish in several different ways to entice diners to give it a try.
Diners will also have several new ordering aids starting tomorrow. In addition to the spring menus, there will also be an express menu, full of sandwiches, soups, and salads that can be quickly delivered to table as well as a corporate catering menu that local firms can use for events. A new martini list will accompany the spring menus, as well as a transparent wine list that can be laid over the menu for pairing suggestions.
Drury explained his new menu while sitting out on the restaurant's terrace dining area, which has recently been reopened to face a trickling waterfall, blooming trees and a cool breeze.
For more information on The Tides, the new spring menu, dining hours and directions, visit www.thetidesrestaurant.net. The web site also includes special menus for St. Mary's County High School Proms and Easter Sunday.