SMIT! SMIT! Entrepreneurs & Investors Shout It Out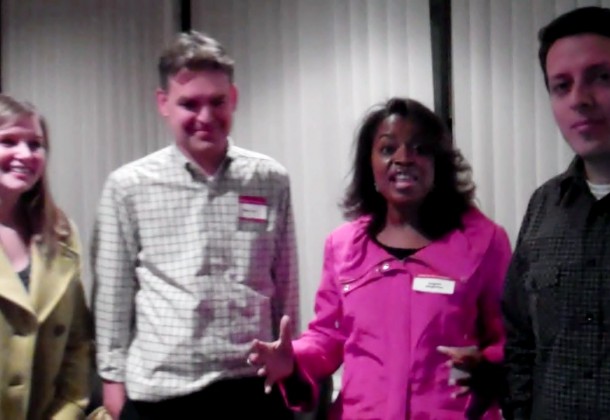 Posted by
Lexington Park Business and Community Association
Bay Leader
Enthusiasm filled a Wyle conference room as Southern Maryland Innovation and Technology revved up its November SMIT Tech Innovation Showcase: Anything Goes!
They mean business. They start on time. They kept more than 50 attendees on schedule. They ended on time only to take the networking a step farther …to the Mexican restaurant next door.
This is a group determined to keep entrepreneurial energy alive and thriving in Southern Maryland. Members and participants are raving on their Meet-Up site.
"Anything Goes" is simple and fast paced: Four presenters of new ideas seeking various support elements have seven minutes to show what they've got. Then there are five minutes Q&A. And that's that for that. There are serious timekeepers here and the program ran like clockwork.
Between presenters "155-character shout-outs" were encouraged including a query at one point as to the number of investors among the 50-plus attendees. Two raised hands to acknowledge the status.
Video below introduces the human energy behind these organizing SMIT sponsors:
TEDCO is a Maryland organization that helps companies commercialize technologies.
NAWCAD Tech Transfer Office promotes the use of NAWCAD labs and facilities, develops strategic partnerships with external customers, and commercializes intellectual property.
Adela Technologies is a Southern Maryland-based managed IT Service provider and mobile device software development company catering to the healthcare and defense industries.
St. Mary's County government is committed to the diversification of the local economy by broadening opportunities for technology business growth and expansion.
[youtube=https://www.youtube.com/watch?v=2qr1VqK1rjY]
There are meet-up times and techniques in the introductory minutes, and time and place arranged for extended conversations after the meet-up. The November event concluded at the Mexican restaurant next door.
LPBCA sponsored by:
[adrotate group="13″]