Ship Runs Aground off Baltimore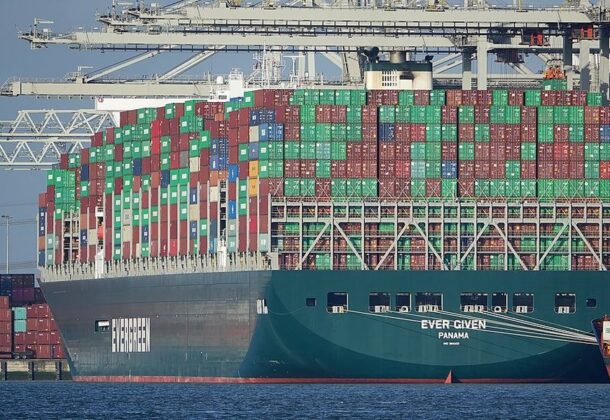 The Ever Forward that ran aground off Baltimore on Sunday is owned by the same company and is the same size of the Ever Given container ship that ran aground nearly a year ago and blocked the Suez Canal. (This photo file is licensed under the Creative Commons Attribution-Share Alike 2.0 Generic license. 
Morning Coffee is a robust blend of links to news around the internet concerning the Naval Air Station Patuxent River

economic community. The opinions expressed here do not reflect opinions of the Leader's owners or staff.
The massive cargo ship, Ever Forward, runs aground in the Chesapeake near Gibson Island after leaving the Port of Baltimore en route to Norfolk, VA, according to Splash247.com. The vessel was proceeding with a pilot on board when it grounded, said a spokesperson for the US Coast Guard's 5th District. The Ever Forward is owned by the same company as the Ever Given which famously ran aground a year ago blocking the Suez Canal for several days, reports The National News. The Coast Guard indicated that no injuries, pollution, or damage to the ship have resulted from the incident and is investigating if a mechanical failure caused the grounding.
Task & Purpose reports on where things stand as Russia's invasion of Ukraine enters its third week: Russian forces are largely stalled in Ukraine while a crisis which the Red Cross called "nothing short of a nightmare" unfolds for civilians. While Russia's invasion has not gone according to plan, according to Vox,  it has been devastating for Ukrainian civilians. Antonio Guterres, the United Nations secretary-general, delivered a statement on Monday that "Ukraine is on fire," and is "being decimated before the eyes of the world." Almost two million people have been displaced inside Ukraine, Guterres said, adding that the "prospect of nuclear conflict, once unthinkable, is now back within the realm of possibility."
Germany plans to buy F-35 warplanes for nuclear deterrence, reports Defense News, reversing years-long plans eliminating the F-35 from consideration. The jets will take over by 2030 the nuclear-weapons mission from the aging fleet of Tornado aircraft, Defense Minister Christine Lambrecht said during a joint statement with Air Force Chief of Staff LT GEN Ingo Gerhartz in Berlin.
Dozens of VA medical centers are slated for closure or total reconstruction under new infrastructure plan, reports Military Times. Thirty-five Veterans Affairs Medical Centers in 21 different states would be closed or completely reconstructed under a nearly $2 trillion infrastructure overhaul unveiled by department leadership on Monday. In addition, 14 new major VA hospitals would be built, along with 140 multi-specialty community-based outpatient clinics. The plan in total would add 80 new medical buildings to the department's existing inventory of more than 1,200 across the country.
Commands are deferring alcohol treatment for troops in need, according to an IG report. The DoD IG report found that troops who have been referred for alcohol abuse treatment are not getting the care they need because of command deferrals, Military Times reports. Reasons were varied including unclear instructions, understaffed centers with no openings, as well as operational requirements and legal actions.
US military installations throughout Europe are estimating they will collectively pay at least $50 million more for gas and electricity in the next year, amid soaring wholesale energy prices exacerbated in some cases by a reliance on Russian natural gas, reports Stars and Stripes.
US lawmakers are fuming that the Biden administration nixed Poland's offer to provide Ukraine with its old MiG-29, Soviet fighter jets, reports Military.com, but do not plan to try to force the administration's hand through legislation. Some say they are banking on the pressure campaign to change President Joe Biden's mind.
A former US representative from Hawaii and current Army Reserve officer Tulsi Gabbard, known for controversial positions often supportive of Russian interests, was accused Sunday of pushing a "treasonous lie" by Sen. Mitt Romney (R-UT), after her latest social media video promoted a debunked theory about biolabs in Ukraine, reports Military.com.
Breaking Defense reports that although Russia's cyber operations have been "relatively mild" against Ukraine, the US cannot let down its defenses. Russia may be holding back its cyber arsenal for future use, Sen. Mark Warner (D-VA), chairman of the Senate Select Committee on Intelligence, said during a Center for Strategic and International Studies event. "Now, will we see that in the coming days? I think that remains a possibility. Are they holding that for potential use against the West and or America? Again, we'll see," Warner said.
Sarah Jane Cavanaugh, 31, of Warwick, RI, has been charged with posing as a wounded Marine Corps veteran, reports Marine Times. She fraudulently claimed to be a Marine Corps veteran with lung cancer in a scheme to collect hundreds of thousands of dollars in veterans benefits and charitable contributions. Rhode Island US Attorney Zachary Cunha charged Cavanaugh with using forged or counterfeited military discharge certificates, wire fraud, fraudulently holding herself out to be a medal recipient with intent to obtain money, property, or other tangible benefit, and aggravated identity theft.
The Airborne and Ranger Training Brigade announced 100 women have graduated US Army Ranger School, reports Task & Purpose. The Ranger School at Fort Benning, GA, is one of the most grueling courses in the Army. The eight-week assessment and selection includes three phases that test soldiers physically and psychologically.
Contract:
Chugach Solutions Enterprise LLC, Anchorage, Alaska (N62473-22-D-3602); KGJJ Engineering Solutions LLC, Fort Worth, Texas (N62473-22-D-3603); MERP-EMI Mission Support LLC, Herndon, Virginia (N62473-22-D-3604); MJM-ACEPEX JV2, Long Beach, California (N62473-22-D-3605); PCI Productions LLC, Huntsville, Alabama (N62473-22-D-3606); and Six Mile NIKA JV LLC, Anchorage, Alaska (N62473-22-D-3607), are awarded a combined $249,000,000 firm-fixed price, indefinite-delivery/indefinite-quantity, multiple award service contract for the procurement involving facility investment services within the Naval Facilities Engineering Systems Command (NAVFAC) Southwest (SW) area of operations. The work to be performed provides for the maintenance, repair, and services for systems and facilities, including heating, ventilation and air conditioning, refrigeration systems, fire protection systems, boilers/unfired pressure vessels, and high voltage electricity systems. Each awardee will be awarded $500 (minimum contract guarantee per awardee) at contract award. The maximum dollar value of all task orders, including the base period and seven option years will be $249,000,000 to the six vendors combined. Work will be performed in California (90%), Nevada (5%), Arizona (2%), Colorado (1%), New Mexico (1%), and Utah (1%), and is expected to be completed by Feb. 9, 2030. Fiscal 2022 operation and maintenance (Navy) funding for a total of $3,000 will be obligated at time of award. Future task orders will be primarily funded by operation and maintenance (Navy); and operation and maintenance (Marine Corps) funds. This procurement was solicited as a competitive multiple award 8(a) small business set aside via the solicitation module under the Procurement Integrated Enterprise Environment online website with eight proposals received and six contractors deemed as technically acceptable. These six contractors may compete for task orders under the terms and conditions of the awarded contract. NAVFAC SW, San Diego, California, is the contracting activity.