Adm. Shannon Recieves Helicopter Service Awards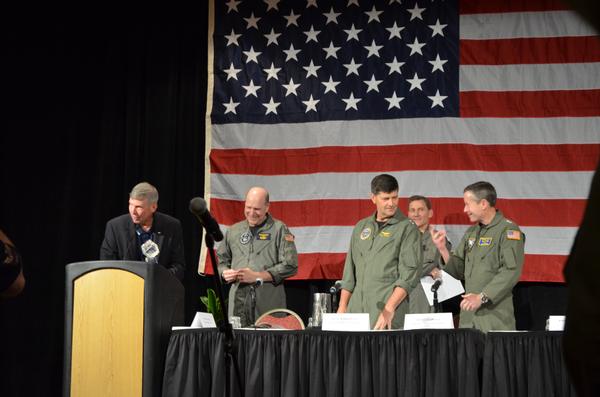 More than 30 years ago, young naval aviator Lt. Bill Shannon piloted a helicopter for the first time. Excited about navigating the aircraft and even more so the Navy, young Lt. Shannon was unaware that he'd help shape the future naval aviation.
Now a flag officer who oversees the Program Executive Office for Unmanned Aviation and Strike Weapons, Shannon was recently honored with two awards from the rotary wing community.
The Naval Helicopter Association (NHA) presented Shannon with its Lifelong Service Award on May 15 during a ceremony at its annual symposium in Norfolk, Va. The NHA's board of directors presents the annual award to an individual for the most significant lifelong contributions to vertical lift aircraft and/or operations.
"It was an honor to receive this award among some of the finest aviators in the naval community," Shannon said. "After talking to some of the junior officers, whose questions were so sophisticated and knowledgeable, I know the Navy in good hands."
Later in the week at the event, the organization bestowed the admiral with the Golden Helix, given to an officer who has had wings longer than any other active duty helicopter aviator. Shannon received his aviator wings Dec. 10, 1976.
"In my six years on the board, this was the first time we came to a unanimous decision when making a selection," said retired Rear Adm. Steven Tomaszecki, a NHA board member and personal friend of Shannon, who presented the Lifelong Service award at the ceremony. "Bill's dedication to the helo community and to the men and women he commanded over the years has always struck everyone as inspired."
Since becoming a naval aviator in the 1970s, Shannon has been an active participant at NHA activities and influenced the development of the rotary wing community, according to NHA's board of directors.
Shannon has three decades of experience working in the helicopter community. Early in his career, he served as an H-53 pilot, flight instructor and squadron commander.
He transitioned to the acquisition side of naval operations in the early 2000s and supported the Program Executive Office for Air ASW, Assault , and Special Mission Programs (PEO(A)) in multiple capacities. One of his most significant roles was as the Multi-Mission Helicopter program manager, where his team successfully introduced the MH-60S Seahawk to the fleet.
Shannon said he has always maintained an interest in the helo community, even after moving on to other positions.
"Many people have something in their life that's central to who they are," Tomaszecki said. "For Bill, it's helicopters. He has always the desire to educate people on rotary-wing aircraft and has always remained very active in the community and our organization."
Source: PEO(U&W) Public Affairs