Recital Series Will Honor Benny Morgan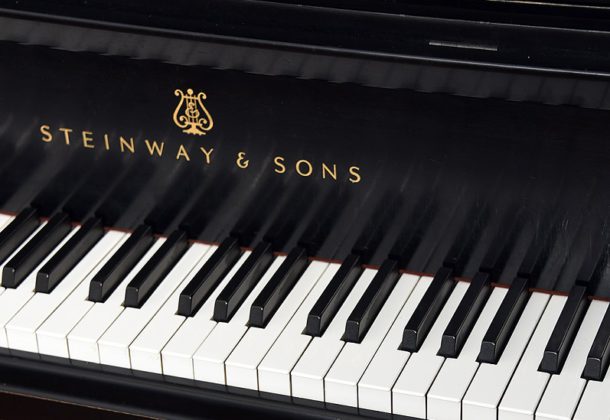 The College of Southern Maryland has created the Benny C. Morgan Recital Series to honor the memory of a local music educator and his donation of his Steinway piano to the college.
Benny Carroll Morgan was a beloved music teacher in St. Mary's County schools for 30 years before he retired in 1986. He taught at Margaret Brent High School, Chopticon High School and Esperanza Middle School. He was for a time the organist at Christ Church Old Durham Parish in Nanjemoy.
In January 2016, Morgan generously donated his prized Steinway grand piano to CSM's Leonardtown Campus. Sadly, Morgan, 85, of Huntersville, passed away several weeks later on Feb. 16, however, with the knowledge that his generosity would add to the musical culture of CSM's students as well as the Southern Maryland community for years to come.
According to family friend Johnny Alvey, plans to donate the piano began shortly after Morgan fell ill and was hospitalized on Christmas Eve 2015.
"He began making plans to donate his cherished Steinway. He wanted it to go to a performance environment, where people could use it. That was his hope. It was important to him to know that after his death it would be enjoyed and appreciated by many people," Alvey said.
Morgan knew CSM could provide the right venue for the Steinway.
"Mr. Morgan had been thrilled that the college would provide a good home for the instrument with plenty of opportunity for sharing it with the community and our students," said Dr. Stephen Johnson, chair of the CSM Division of Communication, Arts and Humanities.
"The Steinway piano was his pride and joy," Alvey said.
Johnson also came up with the idea for the recital series at the college that would host musicians and showcase the piano.
The Benny C. Morgan Recital Series, which will debut Oct. 15, is being instituted in Morgan's memory.
"Benny actually cried and got very emotional when he learned that the college had created the recital series in his name," Alvey said. "That meant so much to him."
Alvey came to know Morgan in 1970 when he was in Morgan's music class. Alvey and his wife both had been Morgan's students when they were at Chopticon High School. Morgan became friends of the Alvey family. Alvey's sister took classes taught by Morgan, too. Morgan had such an influence on her, Alvey said, that she chose music as a career. She is now a band director at a high school in Montgomery County.
Morgan had a pipe organ and the Steinway in his home. The pipe organ is currently being worked on in Cumberland.
"When it's ready, it will be donated to a church somewhere in northern St. Mary's County because Morgan felt that was something lacking in the area," Alvey said.
Some of Alvey's fondest memories are of the parties Morgan would hold to celebrate the birthday of Ludwig van Beethoven. Beethoven's birthday is Dec. 16. It was a tradition Morgan began in the 1980s; he usually held the party on the weekend closest to Beethoven's birthday.
The parties were full of "music-types," Alvey said. Since Morgan also taught adult choirs and madrigal groups there were plenty of people who loved to sing who came to his home.
Alvey recalled Morgan's chalet-style house decorated for the holidays. Morgan would play the pipe organ and someone else would be playing the Steinway. "The group would start out by singing 'Happy Birthday' to Ludwig. Then there would be solos, violins, all kinds of instruments being played."
By 9 p.m., the lyrics of Christmas carols would be passed out and everyone would join in. "Imagine 80 to 100 people singing," Alvey said. "The acoustics, amazing. All of these music people rockin' the place in four-part harmony."
Alvey said Morgan's only living relative is a cousin in Michigan.
"Several families in the area adopted him," Alvey said. "All their children called him 'Uncle Benny.' He was like family, and he never had to worry about where he would spend Thanksgiving or Christmas. He always has somewhere to spend the holidays.
"He was a wonderful, generous person. The kindest person you would ever want to meet," Alvey said.
The college community regrets it did not get a chance to thank Mr. Morgan in person, said Johnson, who is also the coordinator of music at the college.
In this inaugural 2016-17 season of the recital series, the artists scheduled to perform will volunteer their time and talent, so admission will be free. All performances will take place in the auditorium of Building A on the Leonardtown Campus, 22950 Hollywood Road, Leonardtown.
The concert series schedule includes The Chamber Players at 8 p.m. Oct. 15, mezzo-soprano Hannah Baslee at 8 p.m. Nov. 19, Southern Maryland Chamber Ensemble at 8 p.m. March 4 and Southern Maryland Chamber Players at 8 p.m. April 15.
The CSM Foundation paid tribute to Morgan in April during a brick dedication ceremony at the Leonardtown Campus. The walkways at all three CSM campuses have brick areas in which friends of the college purchase bricks with names engraved on them.
CSM's Brick Program is an opportunity to recognize people with their names engraved on the bricks, to be seen by future generations of students, faculty and visitors to the campuses. Morgan was honored by the CSM Foundation with an engraved brick.
For more information on the upcoming series, click here.
For more about the College of Southern Maryland, visit their Leader member page.