Reaper Operators Get Navy's Meritorious Unit Award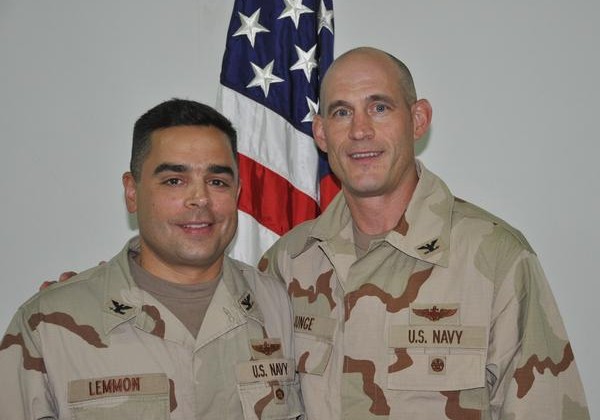 Two NAVAIR officers led a diverse team of active and reserve component personnel to deliver more than 4,500 hours of  intelligence, reconnaissance and surveillance support for a joint special operations task force in the U.S. Africa Command area of responsibility, according to the Navy.
The team, Commander Task Group 67.8, recently received the Navy's Meritorious Unit Commendation award for exceptional performance executing a CNO-directed combat demonstration.
Capt. John Lemmon and his relief Capt. CJ Junge were selected by NAVAIR senior leaders for this individual augmentee assignment because of their acquisition, engineering and command leadership experience. Both captains previously served as squadron commanding officers.
Each individual augmentee came into the unit with different experiences. CTG 67.8 consisted of two distinct elements, geographically separated by 800 miles, and was comprised of intelligence warfare specialists, force protection personnel, and unmanned air vehicle pilots and sensor operators from both active duty and reserve components of the Navy, Air Force, Army and Marine Corps.
With a leader like Lemmon, the team worked together well and successfully executed missions, Junge said, who oversaw the 140-person task group from August 2010 to April 2011. The unit began to gain the respect of the customer by collecting and analyzing highly accurate intelligence data.
As the pioneer Navy unit operating the MQ-9A Reaper unmanned aircraft system (UAS), CTG 67.8 was responsible for supporting Navy irregular warfare requirements in AFRICOM. The unit continuously worked with joint services to define the future for leveraging UAS to support littoral warfare and provide real-time decisional information for U.S. forces in theater.
Working closely with the Persistent Maritime Unmanned Aircraft Systems program office (PMA-262) here, who managed the four Reaper assets, CTG 67.8 provided critical real-time information regarding counter-terrorism to senior DoD leaders.
In spring 2011, CTG 67.8 safely returned from its assignment halfway across the world. Junge is now the advanced development deputy program manager for the Direct and Time Sensitive Strike weapons program office (PMA-242).
Lemmon returned to Pax River in late 2010 after handing off duties to Junge. He is currently attending a program management course in preparation for his upcoming tour as the E-2/C-2 program manager.
Source: PEO(U&W) Public Affairs