Realtors Monitoring Legislative Wish List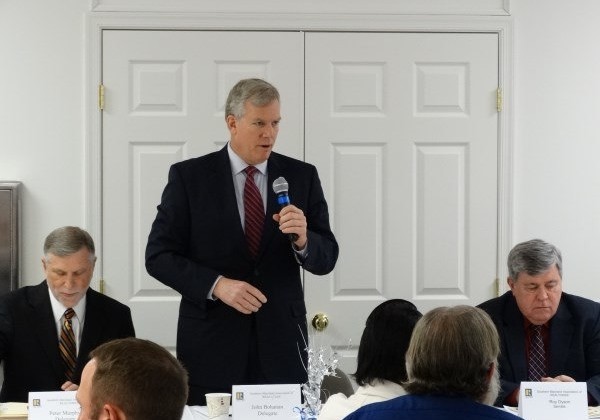 Posted for Delegate John L. Bohanan Pax Leader
By Sheila Gibbons Hiebert
Real estate issues ranging from the cost of Home Owner Association (HOA) resale packages, landlord liability for dog bites and unreal interest rates on rental security deposits are at the top of the Southern Maryland Association of Realtors fix-it list for the current session of the Maryland General Assembly.
A Feb. 3 legislative luncheon hosted by SMAR brought realty agents together with members of the Southern Maryland delegation, including Delegate John Bohanan (D-29B).
"We've done it every year for a decade," said Paula Martino, SMAR government affairs director, of the meeting. "Members love it because it's a forum in which they can talk with their legislators solely about real estate issues, property rights and regulations, without being mixed in with other types of issues."
The event is held early in the session because members of the delegation sit on committees that hear testimony about legislation important to the real estate profession, Ms. Martino says. With the exchange of views the luncheon makes possible, legislators "know when they go into hearings what the real estate community's positions are."
A perennial issue is adjusting the interest rates on security deposits landlords must pay when they return the deposits to departing tenants. Currently, it is 3 percent, a yield few if any landlords can achieve with today's interest rates. A bill has been introduced that would adjust the 3 percent requirement to the greater of the daily U.S. Treasury yield curve rate for one year, as of the first business day of each year, or 1.5%. It also would require the Department of Housing and Community Development to provide, on its web site, a simple way for landlords to calculate the interest they owe.
"Another of the things we're most interested in would provide some consistency between HOA rules and condominium rules regarding the dates that resale packages have to be presented to a buyer and the number of days within which a buyer could rescind a contract," Ms. Martino says. "We're trying to make it simple so everyone can understand. It's a great consumer-oriented bill. It's looking good and we're optimistic we'll get a favorable report out of committee on that." The bill would also cap the costs of these required resale packages of HOA and condo documents.
"We also want to see if we can't get legislation passed that would get landlords removed from strict liability for dog bites by tenant dogs," Ms. Martino says. (A court ruling two years ago affirmed landlord liability.) "We're waiting to see which bill rises to the top that would get non-negligent landlords out of the mix."
Ms. Martino says SMAR and other Realtor groups also are keeping an eye on local governments' use of eminent domain to seize private mortgages in order to restructure them for homeowners who are under water on their mortgages. In these cases, local government buys the delinquent loans, writes down their value, and allows owners to refinance. The owner stays in the home and pays for a smaller debt. The problem is that the bank that originated the loan loses its investment. While at first glance it might seem to solve a problem for desperate homeowners, it likely would have the effect of driving traditional lenders from the market. "We'll be hard-pressed to find financing for buyers and sellers if cities are going to foreclose," she says. This controversial practice hasn't caught on in Maryland, she says; the first community in the nation to try it is Richmond, Calif.
Fingers crossed about anything else in this year's session of the General Assembly? "We don't want to see any more rain taxes," Ms. Martino says, "and we aren't."
Follow Maryland legislation or contact Del. John Bohanan for more information on the laws the Maryland General Assembly is currently addressing.