Poet Brown Kicks Off Spring Connections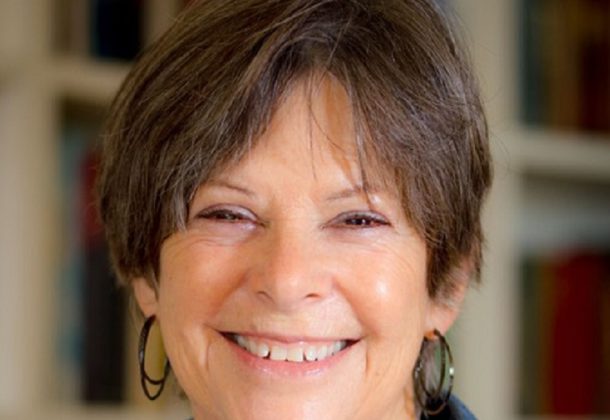 Fleda Brown, a former poet laureate of Delaware, will give a reading to kick off the spring portion of the College of Southern Maryland's Connections Literary Series on March 2 at the Prince Frederick Campus.
Inspired by memory and family and the natural world, Brown uses these themes to create connection and depth of response in her readers.
"I want to dig deep into myself to connect my interior and exterior, and then I want to find words that get as close as possible to that feeling, that thought, that moment, so you can be there, too," Ms. Brown said. "I want that moment to enter the reader at the level of singing. When words sing, they get deeper under the skin."
Ms. Brown, now a resident of Traverse City, Michigan, is on the faculty of the Rainier Writing Workshop, a low-residency MFA program in Tacoma, Washington. Her works include "My Wobbly Bicycle: Cancer and the Creative Life," "The Woods Are On Fire: New & Selected Poems" (University of Nebraska Press) and a memoir, "Driving With Dvorak" (University of Nebraska Press). The author of seven previous collections of poems, she has won the Felix Pollak Prize, a PushcartPrize, the Philip Levine Prize, and the Great Lakes Colleges New Writer's Award. Her work has twice been a finalist for the National Poetry Series. She is professor emerita at the University of Delaware, where she taught for 27 years and directed the Poets in the Schools program. She was poet laureate of Delaware from 2007-2011.
Ms. Brown said that readings like the ones organized by CSM's Connections Literary Series are an opportunity for listeners to be exposed to different artists and styles. In addition, readings are a chance for aspiring writers in the audience to be inspired themselves.
"One of the greatest compliments I've gotten after a reading is, 'You make me want to go home and write,'" Ms. Brown said. "I would say that about readings from other poets I've attended. If the poet triggers something in me, reminds me that I have a story like that, reminds me that there's a way to see things differently, that's what I appreciate. And if the poet is able to show me a new way of seeing, boy, how valuable that is."
She believes in the value of poetry. It is critical, she said, particularly in an increasingly high-tech world with its accompanying onslaught of surface-level information.
"The thing is, we get words thrown at us. We get language thrown at us that skims the surface of what's real. We get clichés thrown at us. We can either live on that superficial surface or we can learn how to dig below it," she said. "Poetry shows us how to listen, feel, below the surface, where real life lives. This has been true forever. When Hitler was rising to power, who did he want to get rid of? The poets who wanted to tell the truth of ordinary lives.
"Our job as poets is to stay present, to see what's right in front of us. Not to proselytize or to do politics, but to get into the heart of what makes us human. That's the most powerful thing we can do," Ms. Brown said.
Her reading in March will be followed by a Connections event April 6 featuring poets Nickole Brown and Jessica Jacobs, both of Asheville, North Carolina. They will read from their work at the La Plata Campus.
CSM English professor Neal Dwyer, director of CSM's Connections series, said the three poets being featured were carefully selected for the series.
"We feel our visiting authors' works will resonate with our students and the Southern Maryland community," Mr. Dwyer said.
Fleda Brown will read from her work beginning at 7:30 pm March 2 in the John E. Harms Academic Center (Building A), Room 119, at CSM's Prince Frederick Campus.
Nickole Brown and Ms. Jacobs will read from their work beginning at 7:30 pm April 6 in the Center for Business and Industry (BI Building), Dr. John M. Sine Conference Room (Room 103), at CSM's La Plata Campus.
For each of these events, tickets are $3 in advance; $5 at the event; or $3 with CSM student ID. For advance tickets, email a request to [email protected] Copies of the books feature in the Connections Literary Series can be purchased at any CSM College Store location or online here.
The Connections series will continue in May with CSM's Spring 2018 Connections Literary Magazine Publication Reading on May 4 at the La Plata Campus. This free event will feature readings from contributors to the magazine. This regional literary journal features poems, stories, artwork and photography submitted by students, staff, area writers and artists as well as some material from visiting authors.
The deadline is March 17 for area writers, artists, and photographers to submit material for consideration for this spring issue.
For information about Connections or to see guidelines for submissions to the Connections Literary Magazine, click here.
The Connections Literary Series is sponsored by CSM's Languages and Literature Division, and, in part, by the Arts Council of Calvert County, the Charles County Arts Alliance, the St. Mary's County Arts Council and the Maryland State Arts Council.
For more about the College of Southern Maryland, visit its Leader member page.