Pax Partnership Plans Networking Event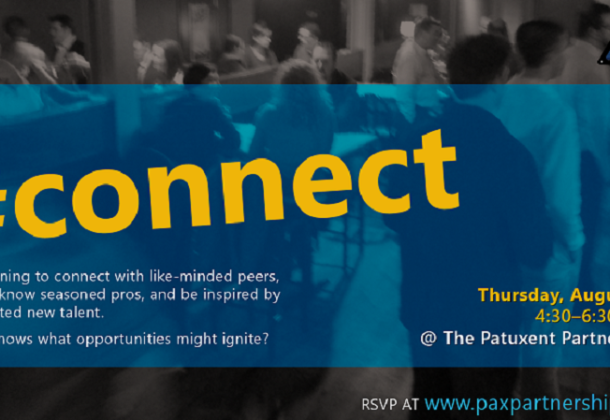 The Patuxent Partnership wants young professionals in the region to #Connect. The organization will host a social and networking event from 4:30 to 6:30 pm Thursday, Aug. 10, 2017, at its office at 22335 Exploration Drive in Lexington Park, Maryland.
Drop in after work for an evening to connect with like-minded peers in the area, get to know seasoned pros, and be inspired by motivated new talent. Who knows what opportunities might ignite? It's hard to meet young professionals in Southern Maryland, right? And how do you find the mentors and opportunities you need to advance your career?
The dress code? Come as you are. No ties.
There is no cost to attend, but advanced registration is requested.
To register for the Aug. 10 networking event, click here.
Other Upcoming Events
Updates on Patuxent River will be provided in a briefing by RADM Charles Rock, Commandant of Naval District Washington, from 8 to 9:30 am Wednesday, Aug. 30, at the Southern Maryland Higher Education Center in Center Hall, Building 2 at 44219 Airport Road in California, Maryland.
Check-in and coffee begin at 7:30 a.m. Advanced registration is requested to manage catering and seating. There is no cost for the program. Register here.
Keep an eye for details and registration information for these events:
Poseidon & Triton: Welcome to the Family
Association of Naval Aviation Panel
September 21, 2017 Click here to register.
Introduction to NAWCAD & Patuxent River
with Leslie Taylor
Executive Director, NAWCAD; Deputy Assistant Commander for Test and Evaluation, NAVAIR
September 27, 2017 Click here to register.
The Arctic Domain & National Security
Patuxent Defense Forum, with keynote speaker Major General Randy "Church" Kee, Executive Director, Arctic Domain Awareness Center, a DHS CoE
December 12, 2017
About The Patuxent Partnership
TPP fosters collaboration and the sharing of knowledge and expertise across a diverse network that includes government, industry, and academia. The Partnership also supports STEM education and workforce development within the local community including hosting programs of interest to NAVAIR, NAWCAD, and the broader DoD community.
To learn more about The Patuxent Partnership and its programs, visit its Leader member page.