Panel to Focus on Naval Aviation Agility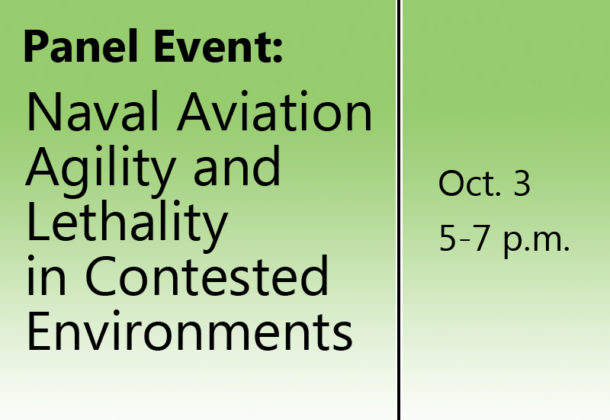 The Patuxent Partnership and the Association of Naval Aviation are hosting an educational panel event Oct. 3, 2018, titled "Naval Aviation Agility and Lethality in Contested Environments." The event will be held from 5 to  7 pm at the Patuxent River Naval Air Museum in Lexington Park, MD.
Participants can join moderator and keynote speaker Daniel Nega, deputy assistant secretary of the Navy Air Programs, for the discussion with panelists who include:
Capt. Craig Grubb, Program Manager PMA-299, H-60 Multi-Mission Helicopters Program Office
Capt. David "DW" Kindley, Program Manager, PMA 265, F/A-18 and EA-18G Program Office
Tony Schmidt, SSTM, Director Rapid Prototyping, Experimentation and Demonstration (RPED), NAWCAD
Capt. Michael S. Wojse, OPNAV N98 (invited)
The event will begin at 5 pm with hors d'oeuvres and libations. The panel begins at 5:30 pm and ends at 7 pm.
The Patuxent River Naval Air Museum's Flight Tech Hall is the building behind newer facility at 22156 Three Notch Road.
Dress for the event will be business casual or the military uniform of the day.
Registration for the event is $25 and must be paid either by credit card on the TPP website, or by cash or check delivered or mailed to:
The Patuxent Partnership, 22335 Exploration Drive, Suite 1035, Lexington Park, MD 20653. It's also possible to register at the door for $25.
Sorry, no refunds. Any proceeds after expenses will go to the Association of Naval Aviation's Squadron 18's scholarship fund and other STEM programs and initiatives in the Southern Maryland region.
Acquisition workforce attendees can earn 2 CL points by attending the panel event.
About The Patuxent Partnership
TPP fosters collaboration and the sharing of knowledge and expertise across a diverse network that includes government, industry, and academia. TPP also supports STEM education and workforce development within the local community including hosting programs of interest to NAVAIR, NAWCAD, and the broader DoD community.
To learn more about The Patuxent Partnership and its programs, visit its Leader member page.