Palmieri, Taylor Join LSM Board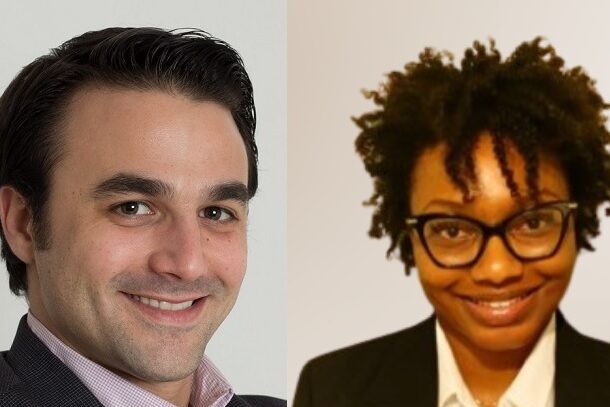 Daniel Palmieri and Christina Taylor have joined the Leadership Southern Maryland Board of Directors. Mr. Palmieri and Ms. Taylor are graduates of LSM's Emerging Leaders Program (LEAP) Class of 2022.
Mr. Palmieri is a senior program analyst/training specialist III for the SYSCOM Security Cooperation Office at Naval Systems Inc., where he manages hybrid meeting facilitation and developmental training for the US Navy international programs workforce. He also ensures all Navy government personnel and contractors receive proper training to support and qualify for their positions and provides certification pathways for employees looking to advance and promote.
He has more than 13 years of professional experience in financial and technical analysis, new business development, contract management, and training. He received a Bachelor of Arts in political science and international economics from the University of Michigan, Ann Arbor in 2009 and is currently earning a Master of Business Administration. As LSM board member, he chairs the Development Committee.
Ms. Taylor is a project manager for the health resilience tract at Chickasaw Nations Industries, a federally chartered corporation. She works with clients to execute projects and serves as a cross functional liaison, pledging to positively represent multiple entities simultaneously. Previously, Ms. Taylor served as a junior process analyst, working with Cengage Learning and 2U Inc. to create and implement technical processes used to increase productivity and streamline training operations.
She has worked in the nonprofit sector and in sales, marketing, communications, and higher education technology. She serves as a core team lead volunteer with Black Girls Code, a not-for-profit organization focusing on providing technology education for African-American girls and students. She received a Bachelor of Arts in English from Spelman College and is pursuing dual master's degrees in business administration and higher education administration at George Washington University. As LSM board member, Ms. Taylor chairs the LEAP Committee and is a member of the Recruitment Committee.
Leadership Southern Maryland's Emerging Leaders Program provides educational programming for new and emerging leaders in Calvert, Charles, and St. Mary's counties. In a series of six structured "experiences," young professionals engage in self-discovery, teamwork, and networking. Session panelists and guest speakers are experts from across the region and state representing business, government, education, and the nonprofit sector.