Oysters Coming Your Way This Weekend!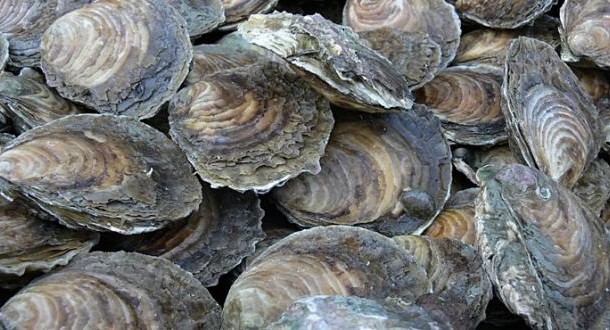 By Sheila Gibbons Hiebert
If James Brown was the hardest working man in show business, then the oyster is his shellfish counterpart.  This bivalve deserves praise for being diligent as well as delicious.
First, the delicious part.  The Rotary Club of Lexington Park welcomes all to the St. Mary's County Oyster Festival Oct. 19 and 20 at the St. Mary's County Fairgrounds in Leonardtown.  There you'll find oysters served up raw, scalded, barbecued, on bread, on the half shell, stewed, nude, simmered in savory sauces, in salads — just about every way imaginable and then some.  You can also watch the stars of the oyster cook-off work their magic and be dazzled by the lightning-fast fingers of participants in the U.S. National Oyster Shucking Contest.  Admission is just $5; children under 12 are admitted free.
Now for the diligent part.  The oyster is a little miracle, the gift that keeps on giving.  Each adult oyster filters and cleans up to 50 gallons of water per day by consuming algae and removing dirt and nitrogen pollution. The oyster is a mighty scrubber of our waterways, sorely in need of help. While awareness about caring for the environment has risen, our waterways aren't feeling the love.  We all need to try harder.
The University of Maryland Center for Environmental Science issues annual report cards for the region's waterways.  The 2012 report card rates the Patuxent River's health as poor, with declines in aquatic grasses and sea creatures living on the river bottom.  The university says these events have basically cancelled out improvements in quantities of dissolved oxygen, nitrogen and phosphorus. The Patuxent gets a D rating from UMCES; the Potomac doesn't fare much better, garnering a D-plus.  The bay remains challenged, too, although some areas of the bay are seeing improving grades.
A glimmer of hope is contained in the Patuxent's score:  its "D" for 2012 was a step up from the F it received in 2011.
The amazing oyster is coping with these conditions and continuing to do much of the natural cleansing of our waterways. The Chesapeake Bay Foundation says restoration efforts such as citizen oyster-gardening programs and reef ball production are getting results in the way of higher oyster reproduction and a lower mortality rate.
Extremes in weather can cause these scores to see-saw over time, too, but it's clear there's a role for all of us to play in contributing to the health of our waterways. So let's give the hard-working oyster a break! We're fortunate to live in an action-oriented community that takes its quality of life seriously.  We're lucky to live among citizens who preach and teach about the environment and are willing to get muddy in annual river cleanups and wade-ins that call attention to water quality.  We encourage everyone to do their part in protecting these wonderful natural resources.
So, before you eat your oysters at this weekend's Festival, thank them!