Norway Moves Forward on F-35 Buy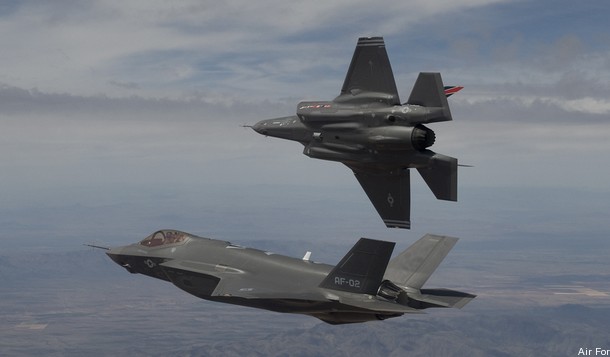 Morning Coffee is a robust blend of links to news around the internet concerning the Naval Air Station Patuxent River economic community. The opinions expressed here do not necessarily reflect those of the Leader's owners or staff.

Although the Norwegian government expects their future F-35 fleet to cost up to 20 percent more to operate than its current F-16 fleet, it is moving forward on acquiring Joint Strike Fighters, reports Aviation Week. Officials say the capabilities the F-35 provides, such as enabling long-range strikes, make it a price worth paying. With plans to acquire 52 F-35As, Oslo has already approved the purchase of 16 aircraft, and that is likely to increase when the budget is approved in spring 2015. Norway's initial aircraft are in production and the first is scheduled to be delivered in late 2015.
Budget cuts and bureaucratic resistance are pressuring existing unmanned aircraft programs and "Next-gen" UAV programs are delayed, leading War on the Rocks to examine the future of unmanned aircraft in the US military. The commentator says the Navy may be deliberately reducing the requirements for its UCLASS program so it doesn't compete with their next-generation F/A-XX manned fighter program. The analysis concludes that the fate of UCLASS determines whether DoD is serious about addressing future threats, or is willing to sacrifice future relevance in order to preserve pilots' jobs.
The DoD has spent as much as $1.1 billion on US military operations against ISIS since operations began in mid-June, reports The Hill. That includes $62 million in Navy airstrikes and Tomahawk cruise missiles that have been fired against militants, according to US Central Command statistics released this week.
The Navy's Specialized and Proven Aircraft Program Office (PMA-226) has expanded its mission, taking over management of the F-5 N/F and F-16 A/B adversary aircraft as well as the acquisition of Contracted Air Services, a move that became effective October 1, according to NAVAIR News. The realignment of the two programs, which were previously executed by NAVAIR's Tactical Airlift Program Office (PMA-207), will allow PMA-207 to focus on its mission supporting C/KC-130J and seven other logistics and fleet transport aircraft.
The MV-22 Osprey tilt-rotor aircraft is being used by the Marine Corps to demonstrate its ability to quickly bring life-rescuing, emergency medical care to stranded injured patients in a mock-disaster drill, according to DoD Buzz.
The creation of a job category and salary scale for government cybersecurity workers could help Federal agencies fill positions in the ever-growing ranks of the cybersecurity workforce, according to Nextgov. A new Government Accountability Office (GAO) report states that cyber skills are a "gap" area in the federal workforce partly because the General Schedule pay system, "does not have a specific classification standard for the work performed in this occupation."
Topics highlighted in this fall's NAVAIR's Leadership Development Program  included Middle Eastern relations, counterinsurgency, cyber warfare, energy security, the Islamic State of Iraq and Syria attacks. The global perspectives seminar considered how these elements will direct the future of the DoD's and NAVAIR's mission, according to NAVAIR News.
The DoD inspector general found lack of internal controls or failure to properly follow such controlscreates opportunities for theft on some shifts. The assessment of the Navy's ability to audit ordnance, reports Stars and Stripes, nevertheless concurred with the Navy's claim that stockpiles were auditable and they accounted for all major weaponry aboard the ships, such as missiles and torpedoes.
The Navy and Marine Corps are working to introduce women into expanded roles in the service, according to USNI News. The Navy has greenlighted female enlisted and junior officers to serve on ballistic missile submarines and the service is still studying how women could serve in the smaller attack submarines.