North End Gallery Opens "River Reflections"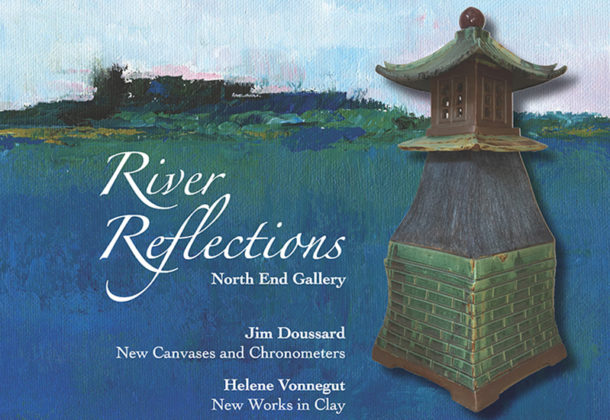 "River Reflections" is North End Gallery's November show featuring gallery artists Jim Doussard and Helene Vonnegut. Both artists are inspired by the rivers and natural beauty of Southern Maryland.
Mr. Doussard expresses his inspiration with vivid abstract landscape paintings. In addition, he creates stunning chronometers using a variety of antiques and accompanies each clock with an imaginative story.
Southern Maryland's waterways and lighthouses inspire Ms. Vonnegut to create contemporary sculptural and functional works in clay. Her garden lanterns, fan-shaped flower containers, and tableware feature Asian influences subtly pleasing to behold and use.
You are sure to be delighted with "River Reflections," which runs from Oct. 31 through Nov. 19. The opening reception is Friday, Nov. 3, 2017, from 5 to 8 pm.
North End Gallery is located at 41652 Fenwick St in Leonardtown, MD 20650. The gallery is open Tuesdays through Saturdays from 10 am to 5 pm and Sundays from noon to 4 pm. For information, call 301-475-3130 or visit the North End Gallery website.