Meeting Challenges for Today's Warfighter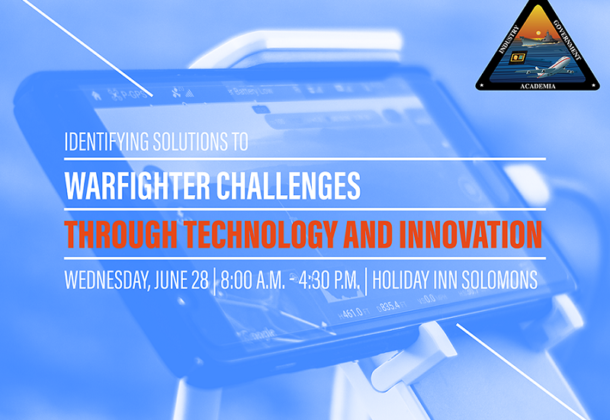 The Patuxent Partnership will present "Identifying Solutions to Warfighter Challenges Through Technology and Innovation" from 8 am to 4:30 pm Wednesday, June 28, 2017, at the Holiday Inn Solomons Conference Center.
This all-day program will focus on products and technologies that have applicable use for the warfighter. TPP has several high-profile speakers confirmed for the day and will have exhibitors from TPP member and non-member organizations, along with start-up firms.
Rates are $50 for individuals representing a TPP member organization and $100 for individuals representing a non-TPP member organization. There is no cost for active duty military/DoD and government civilian employees. Note: You must register using your official/valid military/DoD email address (.mil) to receive complimentary admission. The registration fee includes program attendance, continental breakfast, lunch, and reception.
Registration information can be found here.
The day's agenda:
7:30 am Check in & Coffee
8 am  Welcome & Introductions – Bonnie Green, Executive Director, The Patuxent Partnership
8:10 am Morning Keynote Speaker: Dr. David E. Walker, Director of Technology, Office of Naval Research
9 am Panel 1 – Fostering Innovation at Pax River Moderator: David Cohen, Acting Director, Systems Engineering Department, Naval Air Systems Command (AIR-4.1) Panelists: Robert Smith, AIRWorks, NAWCAD; Dr. James Sheehy, Chief Technology Officer, Naval Aviation Enterprise; Mike Williamson, Deputy PEO for Advanced Technology, PEO (U&W); and Jazz Myres, NAWCAD Innovation Challenge
10:15 am Break/Exhibitors
10:45 am  Panel 2 – Moving Technology to Commercialization Moderator: John Wasilisin, President and COO, TEDCO.  Panelists: Michael Schroeder, Director, NAWCAD Technology Transfer Office; Chris Wilhelm PhD, Customer Advocate for Science & Technology, Lead, Office of Research and Technology Applications, Naval Surface Warfare Center, Indian Head; Thomas Luginbill, Director of Entrepreneur & Innovation Institute, College of Southern Maryland; Ronnie Gist, Associate Director, Maryland Industrial Partnership Programs (MIPS), UMD Startup company representative (pending)
Noon Lunch
1 pm Afternoon Keynote Speaker –Dr. Robert Caret, Chancellor, University System of Maryland
1:45 pm Panel 3 – Government/Industry/Academic Collaboration Moderator: Emily Harman, Director, Office of Small Business Programs, Department of Navy. Panelists: Tami Howie, CEO, Maryland Technology Council; Barbara Ives, Director of the Office of Strategic Partnerships, College of Southern Maryland; Chris Kaselemis, Director, St. Mary's County Department of Economic Development; Dr. David Barrett, NAWCAD
3 pm Panel 4 – Cultivating "Outside the Box" Thinking. Moderator: Earl Wyatt, former Dep Asst Secretary of Defense, Emerging Capability and Prototyping.  Panelists: Mark Hodge, VP Fixed Wing Solutions, Elbit Systems of America; Dr. Alexander Stimpson,  Senior Research Scientist, Humans and Autonomy Lab, Duke University; Ben Riley, Georgia Tech Research Institute, former Dep Assist Secretary of Defense, Rapid Fielding
4:15 pm  Break/Exhibitors
4:30 pm Closing remarks by RADM Mark Darrah, PEO (U&W)
4:45 pm Reception at Holiday Inn
Gold Sponsor is KBRwyle. Exhibitors will be Dell EMC, Florida Institute of Technology, Smartronix, and Survice Engineering Company.
About The Patuxent Partnership
The Patuxent Partnership works with government, industry, and academia on initiatives in science and technology, hosts programs of interest to NAVAIR and the broader DoD community, and supports workforce development including education initiatives and professional development. Call 301-866-1739.
To learn more about The Patuxent Partnership and its programs, visit its Leader member page.