MedStar Awards Seven Scholarships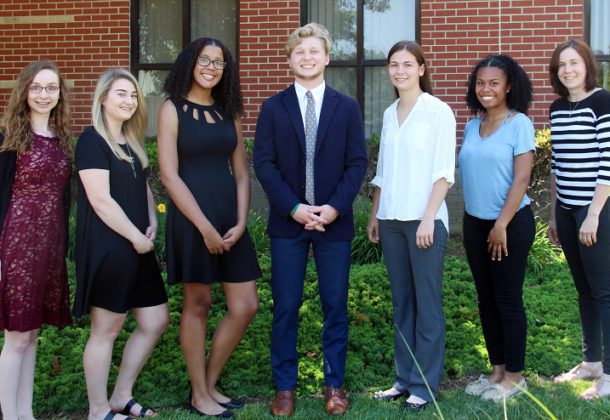 Alexandra Myers, left, Madison Richards, Amaya Butler, Tucker Arvin, Angela Cox, Sydney Marshall, and Kimberly Campbell earned scholarships from MedStar St. Mary's Hospital.
Seven local students earned scholarships totaling approximately $168,000 to pursue careers in nursing and allied health from MedStar St. Mary's Hospital in Leonardtown.
"We were very impressed by all of this year's applicants," said Rick Tepel, chairman of the scholarship committee. "It is inspiring to meet all of the candidates and learn about their plans. We look forward to the great work they'll be doing here in our community after graduation."
This year's scholarship recipients with their fields of study are:
Tucker Arvin of St. Inigoes, nursing
Amaya Butler of Waldorf, nursing
Kimberly Campbell of Lusby, medical laboratory science
Angela Cox of California, nursing
Sydney Marshall of Port Tobacco, radiology
Alexandra Myers of Great Mills, nursing
Madison Richards of Clements, nursing
At a May 24 reception, speaker Christine Taylor discussed how the hospital scholarship helped her to begin a nursing program at age 33.
"I was terrified, but I knew this would be the best move for my family," said Ms. Taylor, who was encouraged to enroll by the doctors with whom she was then working as a medical assistant. "So with a 5-year-old, a 15-month-old, a husband on shift work, and a full-time job myself, I enrolled in my very first college class. Often I spent my nights with my son in one arm and a nursing book in the other."
Ms. Taylor went on to graduate with honors from the College of Southern Maryland in 2010. She became an operating room nurse before transitioning to work as an outpatient care coordinator and breast navigator at MedStar St. Mary's.
She found renewed purpose in working directly with patients to navigate life beyond a breast cancer diagnosis — a cause close to her heart, as she herself is a survivor. Ms. Taylor became the Susan G. Komen grant facilitator in 2016 and also organizes the hospital's monthly Breast Cancer Support Group.
"None of this would have been possible without the support of the hospital," she continued. "This scholarship is what put me on the path to achieve my goals and be successful. It is a beautiful thing when a career and a passion come together."
The Philanthropy Committee, formerly the St. Mary's Hospital Foundation, is a subset of the MedStar St. Mary's Hospital Board of Directors. Including the 2018 recipients, 149 students have received tuition support to help ensure the future of quality local health care. Applications are due each spring. Visit the hospital's website to learn more.
Funds for the scholarship program are raised through the hospital's annual Gala. This year's event, A Mad Adventure, will be held Friday, Nov. 16, 2018, at the Hollywood Volunteer Fire Department's social hall. Click here to become a sponsor.
For more information and one-click access to a list of resources available at MedStar St. Mary's Hospital, visit its Leader member page.