Mayport Lands East Coast Drone Hub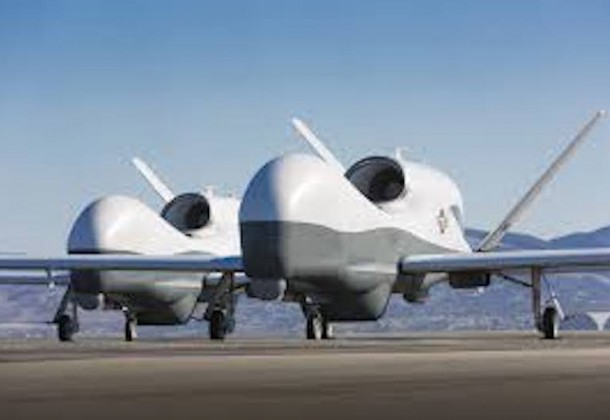 Morning Coffee is a robust blend of links to news around the Internet concerning the Naval Air Station Patuxent River

economic community. The opinions expressed here do not reflect opinions of the Leader's owners or staff.
Naval Station Mayport in Florida was selected to house the Navy's new squadron of unmanned aerial surveillance drones, News 4 JAX reports. In addition to eight Triton drones, up to 400 sailors and their families will be stationed there. Mayport in Jacksonville was chosen from three finalists. The other two were NAS Key West and the NASA Flight Facility in Wallops Island, VA.
President Trump spoke Friday at Boeing's plant in South Carolina. He said he is considering a purchase of the company's advanced Super Hornet fighter jets, called the F/A-18XT, DoD Buzz reports. "We are looking seriously at a big order," he said during the unveiling of the company's 787 Dreamliner. The message seems to be directed at Lockheed Martin and its F-35, domain-b.com reports.
There are a few US firms that are essential to helping maintain global security, The Motley Fool reports. Find out which ones in "5 Things You (Probably) Didn't Know About the Defense Industry."
The British Royal Navy is making a comeback. Its first new aircraft carrier in 30 years is almost ready for its sea trials, and the Navy is planning for 12 new F-35B stealth jets, The National Interest reports.
SpaceX is calling its latest launch a success. The Sunday launch from the revamped Apollo launch pad in Florida went off without a hitch, Forbes reports. The spacecraft is carrying a cargo shipment to the International Space Station.
Wind energy is gaining a larger foothold in North Texas, and some say that region's long association with military training is being compromised. Critics warn that hundreds of pilots who train at Sheppard Air Force Base could lose critical flight time, especially as new wind farms are being built closer to the base, E&E News reports.
US Naval Test Wing Atlantic named Greg "Squid" Williams as the US Naval Test Pilot School Instructor of the Year, Yahoo Finance reports. Williams was recognized last month at a luncheon at NAS Pax River. Williams is a KBRwyle test pilot instructor.
DefSec James Mattis said last week that he did not see the conditions for military collaboration with Russia, Reuters reports, "[b]ut our political leaders will engage and try to find common ground," Mattis said.
Defense News reports on why retired VADM Robert Harward turned down an offer to become President Trump's national security adviser. Many had hoped Harward would bring some stabilization to the National Security Council days after Michael Flynn's resignation. BBC reports that President Trump had looked at four other candidates: adviser Keith Kellogg, former UN ambassador John Bolton, Lt. Gen. H.R. McMaster, and Lt. Gen. Robert Caslen. Trump announced Monday afternoon his choice of McMaster, highly regarded as a military tactician and strategic thinker, reports MSN News.
Military Times reports that President Trump's pledge to boost the Pentagon's budget will meet some resistance from Democrats and fiscal conservatives opposed to repealing a 2011 law that set limits on military and domestic spending. It's not a done deal just yet.
Contracts:
PSI Pax Inc., California, Maryland, is being awarded a $23,769,637 indefinite-delivery/indefinite-quantity, cost-plus-fixed-fee, cost type contract for the procurement of professional and management support services essential to the Combat Integration and Identification Systems Division. These task orders include systems design, engineering, integration, installation, training, operational support, and in-service engineering for ship and shore combat identification, air traffic control, command, control, and communication systems. Work will be performed at Webster Field, St. Inigoes, Maryland, and is expected to be completed in March 2022. Funds are not being obligated at time of award; funds will be obligated on individual orders as they are issued. This contract was awarded competitively via electronic request for proposal as a 100 percent small business set-aside; three offers were received. The Naval Air Warfare Center Aircraft Division, Patuxent River, Maryland, is the contracting activity (N00421-17-D-0002).
General Dynamics Mission Systems, Laurel, Maryland, was awarded a $9,666,932 cost-plus-fixed-fee contract as a follow-on contract to a previously sole-source contract for the Intelligence and Electronic Warfare Tactical Proficiency Trainer (IEWTPT). The trainer is a training system and tool set that simulates and/or stimulates military intelligence warfighting equipment and tools to replicate the necessary environment required to provide proficiency and sustainment training for military intelligence personnel, battle staff, system operators, collectors and analysts. Bids were solicited via the Internet with four received. Work will be performed in Orlando, Florida, with an estimated completion date of Feb. 21, 2021. Fiscal 2017 research, development, test, and evaluation; other procurement (Army); and operations and maintenance (Army) funds in the collective amount of $9,666,932 were obligated at the time of the award. Army Program Executive Office Simulation, Training and Instrumentation, Orlando, Florida, is the contracting activity (W900KK-17-C-0017).
Blue Tech Inc., San Diego, California (W52P1J-17-D-0009); Iron Bow Technologies LLC, Chantilly, Virginia (W52P1J-17-D-0010); Red River Computers Co. Inc., Claremont, New Hampshire (W52P1J-17-D-0011); Intelligent Decisions Inc., Ashburn, Virginia (W52P1J-17-D-0012); NCS Technologies Inc., Gainesville, Virginia (W52P1J-17-D-0013); Dell Federal Systems LP, Round Rock, Texas (W52P1J-17-D-0014); Strategic Communications LLC, Louisville, Kentucky (W52P1J-17-D-0015); GovSmart Inc., Charlottesville, Virginia (W52P1J-17-D-0016); and Ideal Systems Solutions Inc., Minnetonka, Minnesota (W52P1J-17-D-0017), were awarded a $2,500,000,000 firm-fixed-price contract for Army Desktop and Mobile Computing-3 (ADMC-3). Bids were solicited via the Internet with 58 received. Work locations and funding will be determined with each order, with an estimated completion date of Feb. 15, 2027. Army Contracting Command, Rock Island Arsenal, Illinois, is the contracting activity.
CACI Inc. Federal, Chantilly, Virginia, has been awarded a not to exceed $10,309,258 modification, P00005 to previously awarded contract HQ0423-15-F-5001 for comptroller mission systems support to the Office of the Under Secretary of Defense (Comptroller). This modification exercises Option Year 2 with a period of performance of Feb. 16, 2017, through Feb. 15, 2018. The modification brings the total cumulative face value of the contract to $27,909,975 from $17,600,717. Work will be performed at the Pentagon; and in remote locations within the National Capital Region, with an expected completion date of Feb. 15, 2018. Office of the Secretary of Defense operations and maintenance funds in the amount of $10,309,258 are being obligated at time of award. The Defense Finance and Accounting Service, Columbus, Ohio, is the contracting activity.
Huntington Ingalls Inc., Newport News, Virginia, is being awarded an $8,935,475 modification to a previously-awarded contract (N00024-14-C-2111) for the advance planning of the refueling complex overhaul (RCOH) of USS George Washington (CVN 73). This contract modification provides supplemental material and exercises options associated with the third planning year period.  RCOH includes ship checks, design, documentation, engineering, fabrication and preliminary shipyard or support facility work to prepare for the RCOH accomplishment on CVN 73. Work is being performed in Newport News, Virginia, and is expected to be complete by August 2017. Fiscal 2016 ship construction (Navy) funding in the amount of $2,365,000 will be obligated at the time of award and will not expire at the end of the current fiscal year. This contract was not competitively procured. The Naval Sea Systems Command, Washington, District of Columbia, is the contracting activity.