Marines Could Fly F-35 to UK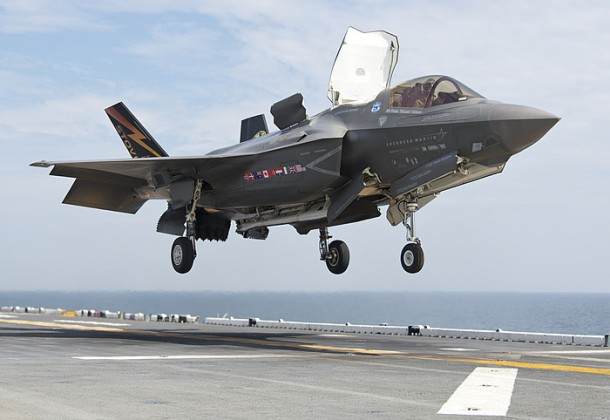 Morning Coffee is a robust blend of links to news around the internet concerning the Naval Air Station Patuxent River economic community. The opinions expressed here do not necessarily reflect those of the Leader's owners or staff.

Although the F-35 Joint Strike Fighter fleet remains grounded, the Marines could still make a trip to the UK and fly their F-35s at two airshows, reports DefenseNews. The stealthy jets were parked last Thursday after a June 23 fire claimed an F-35A at Eglin AFB, FL. However, the Marines may decide they have no concerns about their F-35B jump-jet models and allow the jets to travel overseas, a result of complicated ownership issues with three US military services invested in the program. DefSec Chuck Hagel is scheduled to visit Eglin AFB today, according to DoD Buzz.
Senate Armed Services Committee members are not too concerned about the F-35 fire and subsequent grounding, reports The Hill. Senator James Inhofe (R-Okla.), ranking member of the panel, said, "I just want to keep it going. It's too modern to fail. If we're going to maintain superiority over other countries, we have to have that, we can't do without it."
The number of congressional lawmakers who are vets is down to 20 percent, the lowest rate since World War II, reports POLITICO. The percentage represents a drastic fall from more than 70 percent in the 1970s and that figure could sink even lower after this fall's midterm elections.
The US Naval Test Pilot School welcomed 35 new graduates in a ceremony at NAS Patuxent River, according to NAVAIR News. Members of the US Army, Marine Corps, Navy and Air Force, along with overseas service members, completed the intense 10-month course and graduated as test pilots, test naval flight officers and test engineers.
A former Navy SEAL already charged with stealing more than $1 million from 11 active and retired SEALs was ordered to stand trial on additional felony counts accusing him of stealing $50,000 from a family friend, reports U-T San Diego. He faces up to 27 years in prison if convicted.
The Japanese Defense Minister, after visiting a Lockheed assembly plant, said that the country may purchase additional F-35 fighter jets if their procurement costs fall, reports The Japan Times.
Daily Press takes a look at what is involved in the daunting task of overhauling the USS Abraham Lincoln aircraft carrier. Before the ship is returned to the Navy in October 2016, a Newport News shipyard will log up to 23 million man hours on the $4.47 billion project.
NAVAIR's College of Business Financial Management and Comptroller marked the training of 5,000 students in just three years, according to NAVAIR News. The students are taught that the key to running a successful aviation acquisition business is as much about understanding the financial and budget landscapes as it is about ensuring warfighters have what they need to fight and win in the field.