Learn More About AIRWorks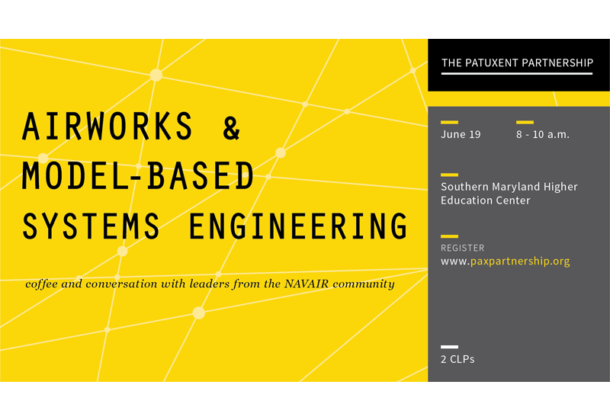 The Patuxent Partnership is hosting an educational event for participants to learn more about AIRWorks and Model-Based Systems Engineering. The event is planned for 8 to 10 am Tuesday, June 19, 2018, at the Southern Maryland Higher Education Center.
Participants will learn how AIRWorks and Model-Based Systems Engineering are helping Naval Air Warfare Center Aircraft Division (NAWCAD) more effectively meet the demands of the Naval Aviation Enterprise. The audience will hear from Rear Adm. Shane Gahagan, NAWCAD commander and NAVAIR assistant commander for Research and Engineering; Gerald Swift, AIRWorks director; and David Cohen, director of NAVAIR Systems Engineering Department.
The event is free for participants, but advance registration is required to allow the organizers to manage seating. Register here.
The agenda for the event includes a welcome at 8 am by Ms. Bonnie Green, the Executive Director of The Patuxent Partnership. A few minutes later, the opening remarks will be given by RADM Shane Gahagan, Commander of NAWCAD; Assistant Commander for Research and Engineering at NAVAIR. At 8:30 am Mr. Gerald Swift, Director of AIRWorks will speak and then at 9:15 am Mr. David Cohen of Systems Engineering Department at AIR-4.1 will speak on Model-Based Systems Engineering.
The higher education center is at 44219 Airport Road in California.
Upcoming Events
A Military Spouse Hiring Reception will be held from 7-9 p.m. June 26 at the River's Edge Conference Center at 46780 Tate Road in Patuxent River.
Join Hiring Our Heroes and Military Corps Career Connect (C3) to network with vetted employers, community leaders, senior military spouses, and other job seekers. Gain valuable insight on career planning and how to stand out as a candidate. Bring resumes and get ready to put your best foot forward with employers who want to hire you.
Learn more and register here.
About The Patuxent Partnership
TPP fosters collaboration and the sharing of knowledge and expertise across a diverse network that includes government, industry, and academia. TPP also supports STEM education and workforce development within the local community including hosting programs of interest to NAVAIR, NAWCAD, and the broader DoD community.
To learn more about The Patuxent Partnership and its programs, visit its Leader member page.