JSF Shows Its Rack(s)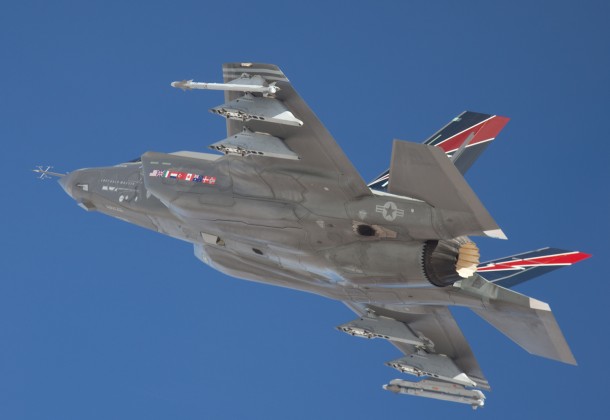 Welcome to Morning Coffee, a robust blend of links to news around the Internet concerning Naval Air Station Patuxent River, NAVAIR, the Pentagon and beyond. The Leader provides this link feature as a survey of the news and announcements affecting the local military economy. The opinions expressed here do not necessarily reflect those of the Leader's owners or staff.
The F-35 can carry weapons internally to lower its radar signature, but, as Aviation Week reports, the Air Force variant is being tested to carry them externally as well. GE says the alternate engine it developed for the Joint Strike Fighter could end up in the Air Force's next bomber, according to DoD Buzz. Inside Defense reports that three of the five major problems with the Marines' F-35B still need a permanent solution (subscription required).
AOL Defense says the Pentagon's budget is actually $6.3 billion higher than is generally reported. DoD Buzz says the defense lobby is heading off a cliff in this year's budget negotiations.
US News reports the intelligence community's gloomy assessment of the Afghanistan conflict.
Contracts: Neany Inc. of Hollywood snags a $12 million contract to continue supporting intelligence balloons in Afghanistan; Adams Communication & Engineering Technology, Inc. of Waldorf gets $10.7 million for the same thing; and Boeing gets $22 million to supply follow-on testing for the Super Hornet and Growler.
Navy faces challenges in disposing of old carriers, Navy Times reports.
NAVAIR releases the latest edition of the Naval Aviation Vision book, DefPro reports.
Putin pushes for a stronger Russian military ahead of elections, Defense News reports. FlightGlobal reports that the UK and France have pledged to cooperate more closely on drone development and deployment.