Input Sought on Commercial Project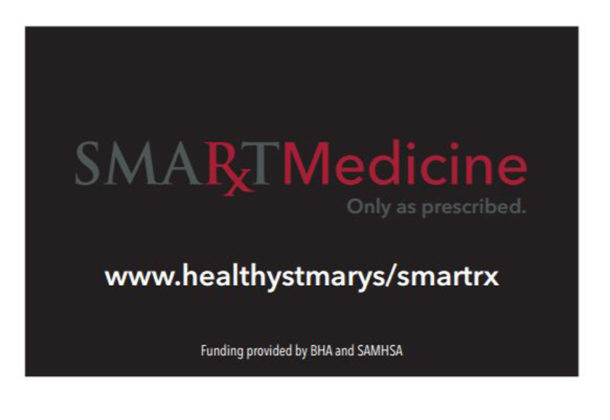 The Healthy St. Mary's Partnership, which is supported by MedStar St. Mary's Hospital, is part of an effort to create a commercial that will spread a message of fighting opioid addiction, and public input is being sought.
The SmartMedicine commercial is part of local efforts in the Opioid Misuse Prevention Program, or OMPP. Its purpose is to highlight the three fundamentals developed by SmartMedicine: "Use, Lock, and Dispose," and to teach the community and viewers that anyone could be at risk for misusing or abusing prescription medications. The animation and sound support for the commercial will be provided by RC Theaters in California, Maryland. The final version, which is about 15 seconds long, will be shown at the movie theater in St. Mary's County and possibly also in other venues, such as doctor's offices, where there are waiting rooms and screens.
The team creating the commercial would like for residents in St. Mary's County to look at the storyboard and make suggestions or offer comments. Click here to view it.
Any comments or questions should be sent to [email protected] no later than April 24, 2017.
The Health St. Mary's Partnership is supporting the OMPP in the commercial efforts. The organization has several groups that are working to create a healthier St. Mary's County, including the Tobacco Free Living Action Team, the Behavioral Health Action Team, the Access to Care Action Team, and the Healthy Eating and Active Living Action Team.
For information on the Behavioral Health Administration Opioid Misuse Prevention Program visit its website. OMPP is administered by the Division of Population-Based Behavioral Health within BHA and utilizes the Strategic Prevention Framework process. Funds have been provided to jurisdictions to strengthen and enhance their local overdose prevention plans and to implement evidence-based opioid misuse prevention strategies contained in those enhanced plans. The website contains a variety of documents and resources related to the planning and implementation of OMPP.
For more information and one-click access to a full list of resources available at MedStar St. Mary's Hospital, visit its Leader member page.