Hunt Is On to Fill Key Pentagon Jobs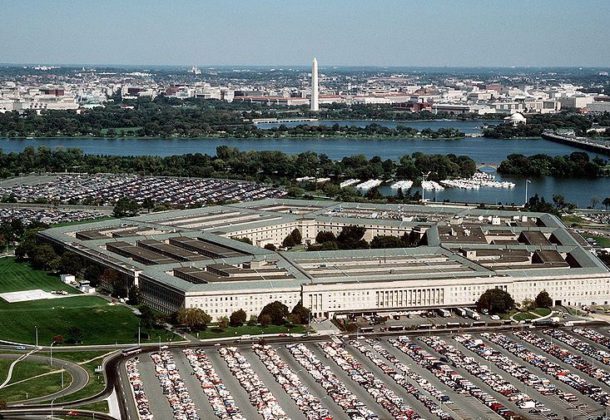 Morning Coffee is a robust blend of links to news around the internet concerning the Naval Air Station Patuxent River 

economic community. The opinions expressed here do not reflect opinions of the Leader's owners or staff.
CNN reports the White House and Pentagon are looking for a new slate of senior officers to fill several key jobs with several senior military figures set to retire. DefSec Jim Mattis is playing a central role in making recommendations for nominations. No one knows how long the defense secretary will stay in his job or the names he is recommending. But the new crop of senior commanders could help shape military operations and policy for some years to come.
The Pentagon is denying news reports that President Donald Trump is considering firing Air Force Secretary Heather Wilson, reports Washington Examiner, over her lack of enthusiasm for the new Space Force military branch.
Brig. Gen. Lorna Mahlock is the Marine Corps' new chief information officer. As DoD grapples with aging infrastructure, Mahlock says she will emphasize network and data center modernization, as well as cultivating talent, reports Defense Systems.
Paul Grosklags, recently retired vice admiral who was stationed at Pax River, is on to a new endeavor. Grosklags is operating a hard cidery on his historic estate in Virginia's Northern Neck, reports Fredericksburg.com. An open house will be held Oct. 13.
The Marine Corps has been experimenting with ways to use its rocket precision artillery system known as HIMARS. Marine Corps Times reports the corps set another historic milestone: destroying a target by connecting an F-35B with a HIMARS rocket shot for the first time.
The US State Department approved just under $70 billion in foreign weapon orders in fiscal 2018, reports Defense News, as the Trump administration stepped up its focus on increasing defense sales abroad.
A Navy veteran has been charged with threatening to use a biological toxin as a weapon by sending letters to the president and other leaders, Military Times reports. Thirty-nine-year-old William Clyde Allen III told investigators he wanted to "send a message," though he did not elaborate.
Rep. Ruben Gallego wants the conflict in Afghanistan to end, reports Military Times. The Arizona Democrat and a Marine Corps veteran who served in combat in Iraq, has been a vocal critic of the "perpetual war" in the recent years. "It's clear that continuing on the current course is not in our national interest," he said. "American troops should come home."
Airbus has carried out a series of manned-unmanned teaming test flight campaigns to demonstrate the ability to control unmanned systems from a manned aircraft, reports Shephard News. The campaigns were conducted using five Airbus Do-DT25 target UAS at a test zone in Germany's Baltic Sea area.
The assistant commandant of the Marine Corps Gen. Glenn M. Walters has retired after 39 years of service, reports Marine Corps Times. He will become the 20th president of the Citadel. Gen. Walters will be replaced by Gen. Gary L. Thomas, the deputy commandant.
The commanding officer of a Navy cyber unit in Italy was fired last month, reports Navy Times. Cmdr. Jesus "Manny" Cordero was relieved as head of the Naval Computer and Telecommunications Station in Sicily. An investigation "brought into question Cmdr. Cordero's integrity and leadership."
A recent military health study, featuring roughly 18,000 randomly selected participants across each of the service branches, showed that almost 66 percent of service members are considered to be either overweight or obese, based on the military's use of body mass index as a measuring standard, reports Military Times. Broken down by service, the 2018 RAND report lists the Army as the branch accounting for the highest percentage of overweight troops.
Lockheed Martin revealed its concept for a reusable, single-stage spaceship capable of ferrying four astronauts between lunar orbit and the surface of the moon, reports Space.com.
Contracts:
Applied Defense Solutions Inc., Columbia, Maryland, has been awarded a $7,526,650 fixed-price and cost-reimbursement modification (P00015) to contract FA255017C8002 for non-governmental space situational awareness services. This modification provides for the exercise of an option for an additional quantity of 12 months of services under the basic contract. Work will be performed at Schriever Air Force Base, Colorado, and is expected to be completed by Oct. 18, 2019. No funds are being obligated at the time of award. Total cumulative face value of the contract is $26,458,756. The 50th Contracting Squadron, Schriever Air Force Base, Colorado, is the contracting activity. (Awarded Oct. 4, 2018).
PAE Applied Technologies LLC, Arlington, Virginia, is awarded a $24,292,143 cost-plus-award-fee modification to previously-awarded contract (N66604-05-C-1277), increasing the cumulative total value of the contract for operation and maintenance services for the Atlantic Undersea Test and Evaluation Center (AUTEC). AUTEC is the US Navy's large-area, deep-water, undersea test and evaluation range. Underwater research, testing and evaluation of anti-submarine weapons, sonar tracking and communications are the predominant activities conducted at AUTEC. The contractor performs services required to perform AUTEC range operations and maintenance of facilities and range systems. In addition, the contractor is responsible for operating a self-sufficient one-square-mile Navy outpost. This modification increases the total value of the contract to $788,075,722. Work will be performed on Andros Island, Commonwealth of the Bahamas (82 percent); West Palm Beach, Florida (18 percent); and is expected to be completed by September 2019. No contract funds are being obligated at this time. The Naval Undersea Warfare Center Newport Division, Newport, Rhode Island, is the contracting activity.
Jacobs Technology Inc., Tampa, Florida, has been awarded a contract modification P00017 on contract HTC711-17-C-D001 in the amount of $18,940,678. This modification provides continued Information Technology Service Management Enterprise support to the US Transportation Command (US TRANSCOM). Work will be performed primarily on-site at Scott Air Force Base, Illinois, and other locations: DISA DECC, St Louis, Missouri; USTRANSCOM Office, Washington District of Columbia; JECC, Norfolk, Virginia; and the Pentagon. The option period of performance is from Oct. 1, 2018, to Sept. 30, 2019. Fiscal 2019 transportation working capital funds operations, operations and maintenance and Defense Health Program funds were obligated at award. This modification brings the total cumulative face value of the contract to $48,981,052 from $30,040,374. US Transportation Command, Directorate of Acquisition, Scott Air Force Base, Illinois, is the contracting activity.
Asturian-Consigli JV LLC, Virginia Beach, Virginia (N40085-18-D-1124); Edifice LLC, doing business as Edifice Solutions, Beltsville, Maryland (N4008-18-D-1125); ED DesignBuild LLC, Germantown, Maryland (N40085-18-D-1126); HCG-JCG JV, Escondido, California (N40085-18-D-1127); and Military and Federal Construction Co. Inc., Jacksonville, North Carolina (N40085-18-D-1128), were each awarded a firm-fixed-price, indefinite-delivery/indefinite-quantity multiple award contract for general construction projects in the Hampton Roads area of Virginia. The maximum dollar value for all five contracts combined is $249,000,000. The work to be performed provides for, but is not limited to, new construction, renovation, alteration, and repairs for general construction projects. Types of facilities include, but are not limited to warehouses, training facilities, personnel support and service facilities, housing facilities, etc. Asturian-Consigli JV LLC is awarded initial task order at $2,947,636 for the foundation and crawl space repairs at the advanced electronic guidance and instrumentation system facility (V-10) on Wallops Island, Accomack County, Virginia. Work for this task order is expected to be completed by December 2019. All work on this contract will be performed in the Naval Facilities Engineering Command, Mid-Atlantic Hampton Roads area, Virginia. The term of the contract is not to exceed 60 months, with an expected completion date of September 2023. Fiscal 2018 operations and maintenance, (Navy) contract funds in the amount of $2,967,636 are obligated on this award and expired at the end of fiscal 2018. Future task orders will be primarily funded by operation and maintenance, (Navy) and military construction. This contract was competitively procured via the Navy Electronic Commerce Online website, with 19 proposals received. These five contractors may compete for task orders under the terms and conditions of the awarded contract. The Naval Facilities Engineering Command, Mid-Atlantic, Norfolk, Virginia, is the contracting activity. (Awarded Sept. 29, 2018)
Davcon Inc., Virginia Beach, Virginia (N40085-18-D-1149); Delaware Corp., Topping, Virginia (N4008-18-D-1150); Doyon Project Services, Federal Way, Washington (N40085-18-D-1151); Rand Enterprises, Newport News, Virginia (N40085-18-D-1152); and Within Interior Design Inc., doing business as Tazewell Contracting, Norfolk, Virginia (N40085-18-D-1153), were each awarded a firm-fixed-price, indefinite-delivery/indefinite-quantity multiple award contract for heating, ventilating and air conditioning construction projects in the Hampton Roads area of Virginia. The maximum dollar value for all five contracts combined is $95,000,000. The work to be performed will primarily consist of new construction, demolition, repair, alteration, and renovation of heating, ventilating and air conditioning equipment, systems and infrastructure to include system components such as fans, motors, ductwork, controls, pumps, piping, supports, and insulation. Types of facilities on which work will be performed include administrative/industrial buildings, maintenance shops, warehouses, hangars, communications facilities, personnel support/instructional buildings, recreational facilities, lodging/dormitory facilities, medical clinics, training areas, indoor ranges, etc. Davcon Inc. is being awarded initial task order at $148,400 for the replacement of a chiller at Building 3889 at Joint Expeditionary Base Little Creek-Fort Story, Virginia Beach, Virginia. Work for this task order is expected to be completed by February 2019. All work on this contract will be performed in the Naval Facilities Engineering Command, Mid-Atlantic Hampton Roads area, Virginia. The term of the contract is not to exceed 60 months, with an expected completion date of September 2023. Fiscal 2018 operations and maintenance (Navy) contract funds in the amount of $168,400 are obligated on this award and expired at the end of the fiscal 2018. Future task orders will be primarily funded by operations and maintenance (Navy). This contract was competitively procured via the Navy Electronic Commerce Online website, with 11 proposals received. These five contractors may compete for task orders under the terms and conditions of the awarded contract. The Naval Facilities Engineering Command, Mid-Atlantic, Norfolk, Virginia, is the contracting activity. (Awarded Sept. 29, 2018)