HSMC Breaks Ground on New Visitor Center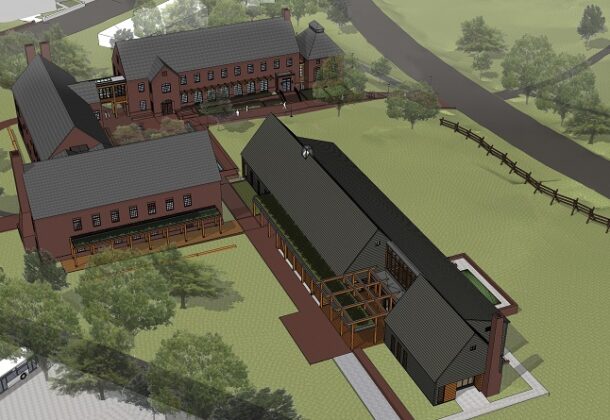 Historic St. Mary's City has broken ground on a new visitor center. Currently named the "Maryland Heritage Interpretive Center," the building will be located next to Anne Arundel Hall, which houses HSMC's research and collections department.
The new building will feature exhibits, an auditorium, and two changing galleries.
Designed by Washington, DC, firm SmithGroup, the long-term exhibition in the visitor center will tell the story of St. Mary's City and St. Mary's County, beginning with the Piscataway people who lived on the land for thousands of years prior to colonization. Working with community partners, the team at HSMC, and the design firm Howard + Revis Design (H+R) have worked toward an ultimate goal of sharing the greater Maryland story, and how it has impacted the United States.
Former governor Larry Hogan and his administration, the Maryland General Assembly, Sen. Jack Bailey, Del. Brian Crosby, and the late Maryland Senate president Thomas V. Mike Miller Jr. helped to provide resources for the updated exhibits and building.
Thanks to a grant from the National Endowment for the Humanities, the new visitor center will feature "storyteller" digital interactives that will highlight stories of diverse people in St. Mary's City history. The funds will also be used to enhance accessibility for these interactives, using technology to create descriptions for those who are visually impaired.
"After years of planning, it is exciting to see this latest step. Thanks to input from community partners, our team at HSMC, SmithGroup, and H+R, this building will strengthen our mission of educating the public," said Regina Faden, executive director of HSMC.
The center is slated to open in 2024.