Hospital Foundation Awards Scholarships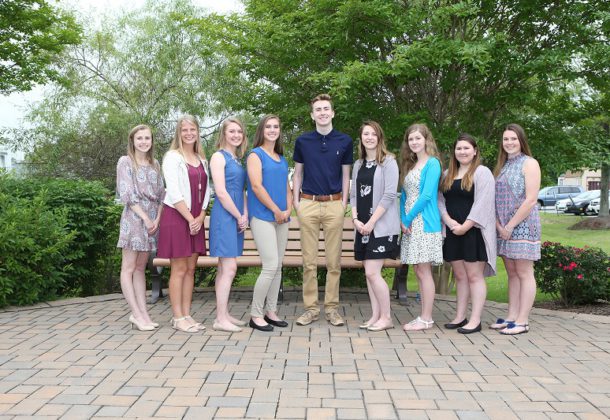 St. Mary's Hospital Foundation 2017 scholarship winners pictured from left to right are Sydney Guthrie, Brenna Duke, Hayley Mesmer, Kylee Wickline, Bailey Schneider, Megan Long, Jessica Thompson, Jordan Janschek, and Cassandra Oliver. Not pictured is Dana King.
The St. Mary's Hospital Foundation at MedStar St. Mary's Hospital in Leonardtown presented 10 local students with scholarships totaling $180,000.
The foundation is an independently governed, charitable arm of the not-for-profit hospital. The foundation spearheads the hospital's capital campaign and runs special fundraising events. The group funds special needs for the hospital, from expansion projects and special medical equipment to annual health care scholarships.
"We were truly impressed by all of the applicants this year," said Rick Tepel, chair of the foundation scholarship committee. "It is inspiring to meet all of the candidates and learn about their dreams and aspirations."
Receiving the scholarships this year were:
Bailey Schneider of Mechanicsville, speech-language pathology, Appalachian State
Dana King of Lusby, nursing, Salisbury University
Brenna Duke, of Hollywood, nursing, University of Mount Union
Jordan Janshuk of Mechanicsville, nursing, College of Southern Maryland
Jessica Thompson of Hollywood, nursing, Lynchburg College
Kylee Wickline of Callaway, nursing, York College of Pennsylvania
Cassie Oliver of Hollywood, occupational therapy, Misericordia University
Sydney Guthrie of California, occupational therapy, Towson University
Megan Long of Mechanicsville, physical therapy, Virginia Commonwealth University
Hayley Mesmer of Lexington Park, physical therapy, St. Francis University
The students were recognized during a reception held May 23.
The foundation has been presenting scholarships to area graduates since 2001 and including this year's recipients, it has awarded 142 scholarships. Funds for the scholarships are raised through the foundation's annual gala held each November. This year's gala, Diamonds & Pearls: Cheers to 30 Years, will be held Nov. 17 at the Hollywood Volunteer Fire Department social hall. Many former recipients are currently employees of MedStar St. Mary's Hospital.
"The foundation believes all of this year's recipients will play an important role in the future of health care in our community," Mr. Tepel said.
For more information and one-click access to a full list of resources available at MedStar St. Mary's Hospital, visit its Leader member page.