Homelessness and Hunger Awareness Month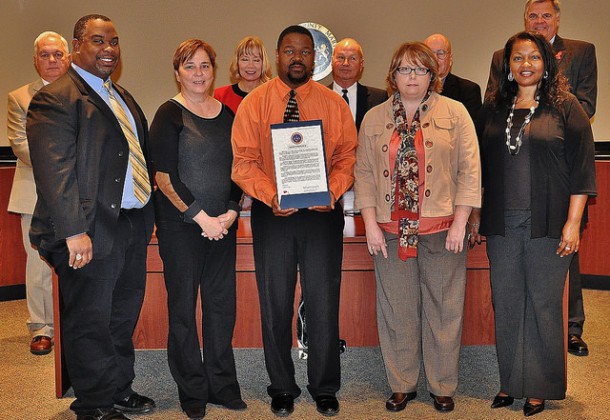 Image reposted with permission from St. Mary's County Government
Posted for
Three Oaks Center

Community Builder
Leonardtown, MD – To raise awareness of the county's problems with homelessness and hunger, the commissioners have declared the month of November Homelessness and Hunger Awareness Month in St. Mary's County. With the cold winter months set to descend upon Southern Maryland in the coming weeks, November is the perfect time for citizens to be aware of the increasing problems of homelessness and hunger in St. Mary's County and what they can do to help.
At the Oct. 28 proclamation, Commissioner Todd Morgan stated that in order to end homelessness and hunger in St. Mary's county we must work in partnership with the faith based community, social and human service agencies and government to ensure that services are coordinated and available to meet the needs of St. Mary's County residents.
One of the most prominent faith based communities working to combat homelessness and hunger is Wrapping Arms 'Round Many (WARM).  WARM, an interfaith non-profit organization, was recognized for providing safe and welcoming shelter to men and women in St. Mary's County experiencing homelessness during the coldest months of the year.  Last season, for 21 weeks from November through March, 21 churches took turns setting up cots and running a kitchen to shelter about 20 people.  Parishioners commit a week and participants then move on to their next shelter after checking in at the Three Oaks enter, which operates the primarily volunteer program.
The biggest need in the WARM program is for van drivers. The vans are provided and kept at Three Oaks Center, in Lexington Park. No special driver's license is required. You must be 18 and have a good driving record. Anyone interested in volunteering to drive the WARM vans should contact Ursula Harris at (301) 475-4200 x1684.
Financial donations are gladly accepted. Checks should be written to WARM and mailed to WARM, PO Box 1174, Lexington Park, MD 20653.
To find other ways to help those in your community this holiday season, visit the Three Oaks website.