Hawk Tank Pitch Contest Is a Hit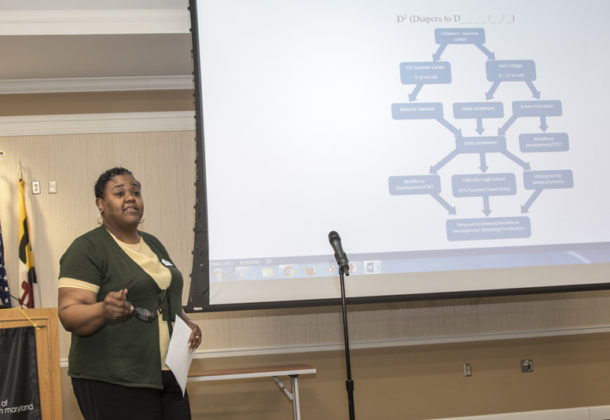 College of Southern Maryland Assistant Vice President of Student Services Regina Bowman-Goldring explains an innovation, also designed by Health Sciences Outreach Director Helene Cameron, that helps participants in college programs see what is available for them next "in the pipeline" during the inaugural CSM Hawk Tank Pitch Contest at the La Plata Campus on March 23. Bowman-Goldring and Cameron's idea won top honors from the judges.
College Spoofs 'Shark Tank;' Employees Make Suggestions
Both Jackie Koerbel and Sheila Levings admitted they were a little nervous before their turn to present projects at the College of Southern Maryland's Hawk Tank Pitch Contest. The premier event at the college's La Plata Campus on March 23 was the chance for CSM faculty to share ideas of how to improve the college, after which a panel of judges and the audience chose the best.
"Both of us speak a lot to people, but this is quite different," said Ms. Levings, who is the Health Sciences nursing retention coordinator at the college.
"You're a lot more aware of who's out there," said Ms. Koerbel, a CSM Allied Health adviser, referring to CSM President Maureen Murphy and the room full of college vice presidents and other major decision-makers at the college. "I'm just hoping that the PowerPoint works."
Ms. Koerbel's idea for "Triaging Advising Process," a plan that could increase access to consistent information for students by embedding academic advisors within each of the college's academic divisions, was the first of 14 pitches in the contest. The idea received immediate approving murmurs from the spectators.
Ms. Levings was the seventh presented and used her three allotted minutes to suggest that the college foster the ongoing development of its nursing students' education by creating a guided career path from Certified Nursing Assistant to an associate degree in nursing and then to becoming a registered nurse. The idea, which was co-developed with Lori Proctor, director of health care in CSM's Continuing Education section, was borne from student survey results. Ms. Levings and Ms. Proctor suggested integrating CSM's CNA students in a cohort "that supports and encourages additional education," benefitting the students' work opportunities and helping the state rectify its nursing shortage.
Other pitches were: ways to better acknowledge staff contributions, implementing more targeted marketing strategies, a stipend for employees who choose a spouse's health insurance over the college plan, including more digital ways to access student services to accommodate the tech-reliant Gen Z students, designing gardens that are friendly to pollen collectors as part of an effort to become an official "Bee Campus," marketing gift cards for college programs, and hosting community days at which residents could learn more about the college and community at the same time.
"I'm excited at the diversity of ideas that's coming forward," President Murphy said in her introduction of the event, noting the value of "creating a climate where people can take risks safely and bounce ideas off one another … Innovation is really, really important."
The panel of nine judges consisted of volunteers or invited guests from across CSM's four campuses and varied services.
Judges chose the pitch by Assistant Vice President of Student Services Regina Bowman-Goldring on "Classification of Students for Enrollment and Marketing Enhancements" as the top winner. Ms. Bowman-Goldring's idea, which was also designed by Health Sciences Outreach Director Helene Cameron, pointed out that CSM has programs for every stage of students' lives — starting with the Children's Learning Center and CSM Kids' and Teen College for younger people, dual enrollment programs for high schoolers, credit and certificate programs for working age people and personal enrichment classes that are appropriate to seniors and all adult age groups.
Ms. Bowman-Goldring and Ms. Cameron suggested ways for the college to let students in any of these programs know what is coming up next in "the pipeline" for them.
Second-place winner was an idea pitched by Lead Web Services Director Kristen Titsworth, "Making Student Services More Accessible." The idea, which also came from Web Applications Manager Cindy Breck, suggested that the college consider how to better provide services for CSM students who were born after 1995, known as Gen Z or iGen. "They are the true digital natives," Ms. Titsworth said, adding, "email, while still necessary, is outdated" for this group.
For its top choice, the audience picked an idea from Registrar Carol Harrison and Lead Executive Assistant for Advancement Toni Kruszka. The two noted that CSM already has an annual excellence award for a faculty member and an adjunct faculty. An annual award for staff excellence should also be included, they suggested. "Toni and I believe we have outstanding staff, and they deserve to be recognized also," Ms. Harrison said.
The audience had a tie for second place, including Koerbel's pitch for "Triaging Advising Process" and one by Enrollment Advisor Tori Pasini about "Optimizing Meetings and Information Dissemination."
Ms. Pasini noted that CSM offers so much to the community — more than 100 credit and degree programs, workforce training, personal enrichment and a growing variety of youth and family programs. To help keep college employees aware of new programs, options and other changes, Ms. Pasini suggested a single monthly meeting where everyone could participate via web conferencing and "all information will be shared in the same location," she said.
"I was wowed by my colleagues who pitched their ideas," said Lead Executive Assistant Kim Yellman, chief organizer of the event with the College Innovation Team, which created the contest idea. "Our first Hawk Tank Pitch Contest went well thanks to everyone who participated, including our voluntary judges and audience members. I'm looking forward to reviewing all the ideas again and seeing what can be implemented."
"Regardless of who won the most votes, all these ideas will be vetted. The President's Council will take a look at this," President Murphy said after the event. "I was very, very impressed. It takes a lot of guts for people to stand up here and pitch their idea."
CSM's Hawk Tank Pitch Contest is consistent with President Murphy's approach to leadership. The president of the college since July, she began her tenure with a lengthy listening tour. Visiting all four campuses, sitting down with employees of individual departments, and, taking copious notes, President Murphy listened to what everyone said about the work their department does, the challenges each department faces and employees' ideas for improvement.
"During the listening sessions, we heard incredible ideas from all across the college community," President Murphy said. "The College Innovation Team's work with the Hawk Tank Pitch Contest makes it possible for everyone to hear these great ideas. It's a way to celebrate our employees' creativity and find ways for making the College of Southern Maryland even better."
For more about the College of Southern Maryland, visit its Leader member page.