Grosklags Now Commands PEO(A)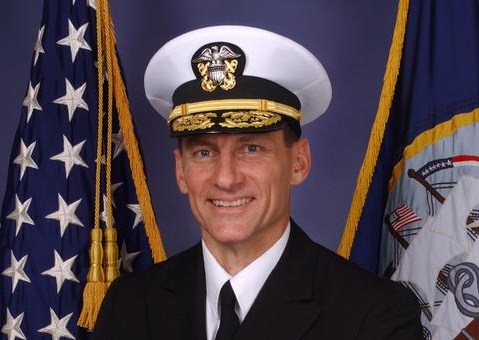 In a change of command ceremony Tuesday, Rear Adm. Paul Grosklags relieved Rear Adm. Steve Eastburg to become the eighth program executive officer for Air Antisubmarine Warfare, Assault and Special Mission Programs.
Eastburg, who had been PEOA since September 2008, will move to the Moffet Building's fifth deck to assume the duties as vice commander of the Naval Air Systems Command.
The ceremony was held at Air Test & Evaluation Squadron 20, one of Eastburg's former commands. Lt. Gen. Terry Robling, deputy commandant of the Marine Corps for Aviation, presided over the ceremony in recognition of the heavy weigh in of U.S. Marine Corps platforms within PEOA.
"I have watched on a daily basis as individuals in PEOA and in our program offices stretched themselves beyond levels they thought they could perform. They brought talent, experience – and heart – to some of the most demanding responsibilities in the Department of Defense and they rarely ever met with anything less than complete success," said Rear Adm. Steve Eastburg. "It has been an enormous privilege and honor to be entrusted with these responsibilities the last three years."
A 1982 Naval Academy graduate, Grosklags is no stranger to PEOA's portfolio of eight program offices, representing 40 percent of the total naval aviation inventory. Grosklags previously served within the PEO at many levels, ranging from H-60 test pilot and assistant H-60 program manager for systems engineering, to H-60 program manager and later deputy PEOA.
"This year we are celebrating the Centennial of Naval Aviation. It is marked not by a first flight or a first pilot, but by the procurement of the first two aircraft. Today the acquisition component remains as important as any other component of Naval Aviation," said Rear Adm. Paul Grosklags. "We are responsible for being the stewards of more Naval Aviation resources than any other organization – by a large measure."
Prior to coming to NAVAIR for acquisition tours, Grosklags served more than 17 years in the fleet, which included flying the SH-2F Seasprite and SH-60B Seahawk helicopters with both Helicopter Anti-Submarine Squadron Light 34 (HSL-34) and HSL-42 during deployments aboard USS John Hancock (DD 981), USS Donald B. Beary (FF 1085), USS Comte de Grasse (DD 974) and USS Leyte Gulf (CG 55).
While flying anti-submarine helicopters from frigates, destroyers and cruisers as part of larger aircraft carrier battle groups, Grosklags amassed most of his more than 5,000 flights hours.
Just prior to returning to NAVAIR in July 2001, Grosklags served at Naval Air Station Whiting Field in Milton, Fla. as the executive officer, and then commanding officer, of Helicopter Training Squadron 18.
After successfully shepherding the MH-60R systems through development and into production, Grosklags became the Multi-Mission Helicopters Program manager and served in that position from July 2004 through August 2007.
Grosklags was selected for flag rank and reported as the commander, Fleet Readiness Centers and NAVAIR deputy commander for Logistics and Industrial Operations. He assumed the position of NAVAIR vice commander in August 2009.
Holding a master's degree in aeronautical engineering from the U.S. Naval Post Graduate School, Grosklags is also a Class 99 graduate of the U.S. Naval Test Pilot School.
He and his wife live on a fish farm in the Northern Neck of Virginia.
Source: PEO(A) Public Affairs