Gov Sees St. Mary's Grads at 'Threshold of American Progress'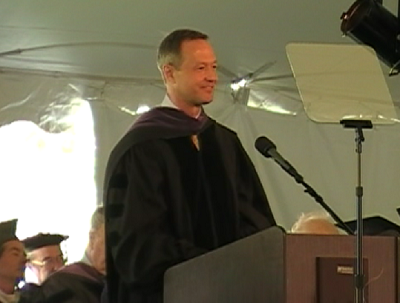 Posted for  
St. Mary's College of Maryland
Bay Leader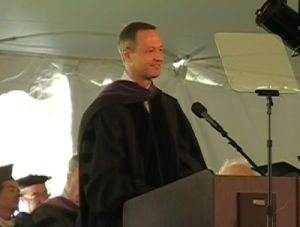 The St. Mary's College of Maryland class of 2013 chose Governor Martin O'Malley as their commencement speaker.
Gov. O'Malley stressed that less than seven percent of the world's population has a college degree. The importance of more individuals attaining a college education is paramount. The Governor said that ensuring that education and innovation continue will create jobs and make this nation, and this planet, a better place to live.
"You are graduating today at the threshold of a new era of American progress, and at your fingertips are actually rising standards of living, better educated children, more affordable college, more highly skilled American workforce, safer neighborhoods, a safer more resilient homeland, healthier people, a more sustainable way of living, if you choose to make it so." he said.
Gov. O'Malley espouses a national effort to ensure that at least 55% of the states' residents between the ages of 25-64 will hold some level of degree from a higher education institution by 2025.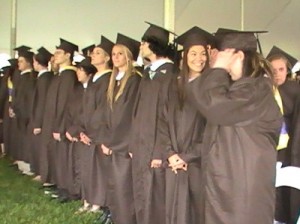 "Here in Maryland we have been placed at the center and at the forefront of the … revolution of science technology even discovery and innovation. For the second year in a row the US Chamber of Commerce … named your state number one in innovation and entrepreneurship" said Gov. O'Malley. "In labs and classrooms all across our state, Marylanders are revolutionizing the way we feed and fuel and heal our planet."
Maryland's public school system has  ranked as number one in America five years in a row. Maryland froze in-state tuition at state colleges and universities four years in a row and has held tuition increases to the lowest in the nation for over five years. As the only state in the nation to implement such tuition freezes this state is doing more than any other to ensure that a public higher education is attainable to everyone, he said.
Gov. O'Malley called for action from those graduating this spring, saying  a new kind of leadership is necessary to ensure continued progress; a collaborative leadership, that will connect and empower individuals and unlock individual community based solutions needed.
[youtube=https://www.youtube.com/watch?v=k7tP_LOBqVE]