F-35C Joins Carrier Flight Operations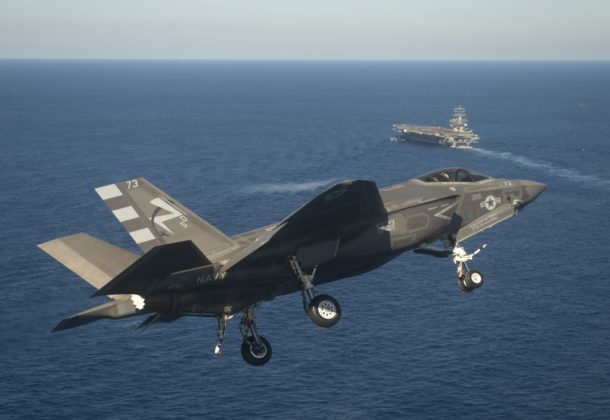 Morning Coffee is a robust blend of links to news around the internet concerning the Naval Air Station Patuxent River

economic community. The opinions expressed here do not reflect opinions of the Leader's owners or staff.
USNI has video of the first time the F-35C is incorporated into a carrier air wing's cyclic flight operations alongside aircraft from Carrier Air Wing 7. The F-35Cs launched, recovered, and maneuvered around the flight deck alongside F/A-18E/F Super Hornet, EA-18G Growlers, and E-2D Advanced Hawkeyes.
Defense News reports that Russia is using Syria as a test bed for its newest capabilities and as an opportunity to see American equipment such as the F-22 fighter jet up close, raising concerns that Moscow may be gaining a military edge over the US from its experiences in the region. Of course, the US military is doing the same thing.
Spectators had a rare opportunity to see the F-35 in action at the Chicago Air and Water Show. Business Insider also has photos of the event at Lake Michigan.
The first of the Air Force's new advanced, high power GPS III satellites has shipped to Cape Canaveral for its projected launch in December, reports UPI. Lockheed has been selected to build the first 10 satellites for the GPS constellation. They will have three times better accuracy and up to eight times improved anti-jamming capabilities, according to the company.
The Army plans to test for toxic lead hazards in 40,000 homes on its bases, according to Reuters, which reported on findings of children at risk of lead poisoning in military housing. The lead inspections would cost up to $386 million and target pre-1978 homes to identify deteriorating lead-based paint and leaded dust, water, or soil, according to the military documents.
Defense News reports on the complicated question of knowing when US weapons are used in strikes in Yemen.
The naval head of Iran's Revolutionary Guards said his nation has full control of the Persian Gulf. Gen. Alireza Tangsiri added that the US Navy's mission "to ensure freedom of navigation" worldwide, had no business being there, reports Popular Mechanics.
Task & Purpose reports on six appreciations of John McCain.
USNI News Fleet and Marine Tracker for Aug. 27, 2018.
About 51.5 inches were measured last week at a weather station near Hilo, Hawaii, reports The Huffington Post, earning Hurricane Lane a spot among the most extreme weather events on record in the US, according to preliminary rainfall totals from the National Weather Service.
President Trump says the US and Mexico reached an accord to revise key portions of the North American Free Trade Agreement and would finalize it within days, reports The New York Times. Trump suggested he was ready to jettison Canada from the trilateral trade pact if the country did not get on board quickly.
Contracts:
Jacob's Technology Inc., Tullahoma, Tennessee, was awarded an $87,386,790 modification (P00005) to contract W91CRB-15-D-0018 to perform a variety of test support services to Aberdeen Test Center's automotive, firepower, survivability lethality, technology, and warfighter mission areas at Aberdeen Proving Ground, Maryland. Work locations and funding will be determined with each order, with an estimated completion date of Aug. 31, 2019. US Army Contracting Command, Aberdeen Proving Ground, Maryland, is the contracting activity.
Phoenix International Holdings Inc., Largo, Maryland, is awarded a $29,932,449 cost-plus-fixed-fee modification to previously awarded contract (N00024-14-C-4107) to exercise options for the continued maintenance and operation of the Navy's Submarine Rescue Diving and Recompression System. The contractor will provide appropriate and sufficient personnel and services necessary for the mobilization, operation, storage, logistic support, repair and maintenance of the rescue systems, and to mobilize and operate the submarine rescue systems that support the response requirements. The contractor is responsible to ensure the rescue systems are maintained in a high state of readiness to support a rapid worldwide deployment on a 24-hour-per-day, 7-day-a week basis. This contract combines purchases for the Navy (93 percent); and the government of Malaysia (7 percent) under the Foreign Military Sales program. Work will be performed in San Diego, California, and is expected to be completed by August 2019. Fiscal 2018 operations and maintenance (Navy); foreign military sales Malaysia; and fiscal 2016 other procurement (Navy) funding in the amount of $4,607,480 will be obligated at the time of award. Funds in the amount of $4,180,000 will expire at the end of the current fiscal year. The Naval Sea Systems Command, Washington, District of Columbia, is the contracting activity.
L-3 Communications Vertex Aerospace LLC, Madison, Mississippi, is awarded $12,055,047 for modification P00018 to a previously awarded indefinite-delivery/indefinite quantity contract (N00019-15-D-0022). This modification exercises an option for business jet training services in support of contracted air services basic training, large national exercises, and small, single unit training exercises. Missions include maritime air patrol, low/slow terrorist aircraft, air interdiction training, and air intercept/anti-submarine training in support of the Navy and Marine Corps, other Department of Defense agencies, and Foreign Military Sales customers. These services support training requirements through air intercept control, anti-submarine tactical attack control, tracking exercises, electronic warfare missions, banner tows and target tows. Work will be performed in Virginia Beach, Virginia (50 percent); Coronado, California (40 percent); and Kauai, Hawaii (10 percent), and is expected to be completed in February 2019. No funds will be obligated at time of award; funds will be obligated on individual orders as they are issued. The Naval Air Systems Command, Patuxent River, Maryland, is the contracting activity.