Dual Enrollment Growing at CSM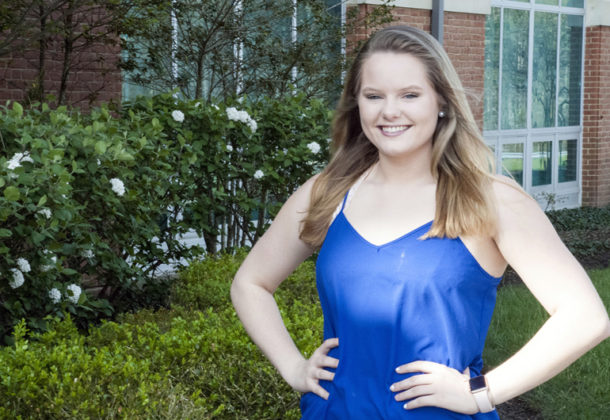 Kayleigh Lister of St. Leonard, a dual-enrolled student at the College of Southern Maryland and a senior at Calvert High School, will have earned 33 college credits from CSM when she enters Salisbury University in the fall.
When Kayleigh Lister heard her guidance counselor at Calvert High School talk about dual enrollment at the College of Southern Maryland, she knew the program was for her. Dual enrollment allows the region's high school students to attend CSM for college credit while satisfying high school graduation requirements.
"It was a way to get a head start and save some money," said Ms. Lister, 18, of St. Leonard, who is a senior at Calvert and a dual-enrolled student at CSM.
Students who take advantage of dual enrollment enjoy savings on tuition and use it as a way to start early in earning credits toward a degree. Dual-enrolled students pay just half of CSM's regular tuition rate for their courses. College credits earned at CSM can be transferred to most colleges and universities around the US.
Also, students are learning early what it's like to take college classes, putting them ahead of the curve when they leave high school. "All the numbers, nationwide and in this area, show that students who participate in dual enrollment have a higher GPA when they start college full time," said CSM Director of Admissions Brian Hammond.
Because of dual enrollment, Ms. Lister is also able to continue with her regular high school activities. She plays field hockey and holds two part-time jobs — one as a babysitter and the other at a local smoothie restaurant. She takes three classes at her high school, two classes at the nearby CSM Prince Frederick Campus, and two online CSM classes.
By the end of this summer, Ms. Lister will have earned 33 college credits. "She is a real go-getter," said CSM Assistant Director of Admissions Shelby Potts. "That is a whole year of college."
Ms. Lister loves the program, but admits that her parents had reservations at first.
"They were worried that I would take on too much," Ms. Lister said. But the extra scheduling and extra work have not been a problem, she said. CSM courses are different from high school, she said. "You have more to do." But she feels comfortable at the college. She knows at least one person in each of her CSM classes and has found that CSM staff and faculty are very helpful.
"Everyone is really supportive of dual-enrollment kids," she said.
Dawn Lister, Kayleigh's mother, has been won over by her daughter's positive experience with dual enrollment at CSM. "She's pleasantly surprised us," she said. "She's very organized, driven and determined."
Kayleigh's goal is to save money by completing college two years early. CSM's dual enrollment program is helping to make that possible as she works toward a career as a history teacher or a nurse. She will continue college this fall at Salisbury University.
CSM's dual enrollment numbers have been increasing over the last several years. In fall 2013, 176 high school students participated in CSM's dual-enrollment program — 42 from Charles County, 57 from Calvert, and 77 from St. Mary's.
That number has increased by 80 percent this spring, with 316 Southern Maryland students in the program — 115 from Charles County, 86 from Calvert, and 115 from St. Mary's. Also, 722 additional high school students are taking advantage of the opportunity to take Dual Enrolled Math or English courses for college credit without leaving their high schools.
"Dual enrollment is growing in popularity because students and their parents are seeing the academic and the cost benefits," Mr. Hammond said. "By participating in dual enrollment students are earning an opportunity to complete a semester or two of college at a fraction of what they would pay at their four-year college."
Dual enrollment at CSM is a competitive admissions program, and students must demonstrate college-readiness. Deadlines to complete an application, complete college level placement options and submit a signed form July 15 for the fall semester and Dec. 15 for the spring semester.
For information on dual enrollment at CSM, call 301-934-2251 (option 0) or visit CSM's website.
For more about the College of Southern Maryland, visit its Leader member page.