Drone Classes Set in Prince Frederick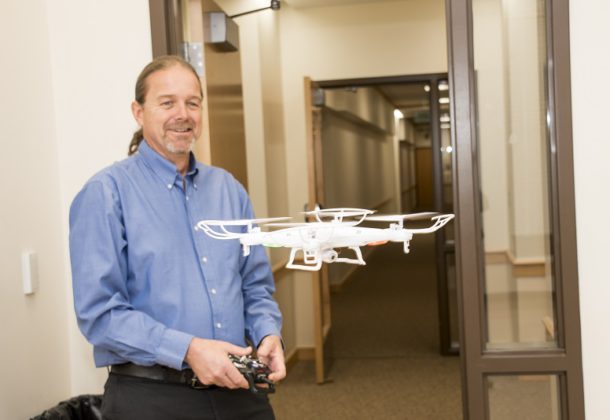 The College of Southern Maryland will offer two new drone classes this summer at its Prince Frederick Campus.
The first course is designed for anyone who wants to learn how to safely operate a small unmanned aircraft system (sUAS) or drone. The second course is for those pilots who want to use a drone for commercial purposes and need to pursue FAA certification.
"Drones are for everyone," said Bill Winters, instructor for both of the courses. "You can use these for home videos. You can use them in your business. There are unlimited applications."
With twice as many drones sold in 2016 as in the previous year, approximately 2.5 million, the FAA is encouraging drone owners to fly safely and has developed strict rules and regulations on the operation of drones. "Every drone that meets FAA criteria as a sUAS must be registered with the Federal Aviation Administration," Mr. Winters said. "The Federal Aviation Administration … would like anyone who receives a sUAS to know the rules and regulations before they take to the air.
"Introduction to Small Unmanned Aircraft System (sUAS)" (AVN-5010) is a 12-hour class that will be offered on Tuesdays and Thursdays from July 25 to Aug. 3 from 5:30 to 8:30 pm. Students will come away from the course with their own drone and the necessary software, along with the skills to use it.
"Remote Pilot Test Prep" (AVN-5020) is an six-hour class on Tuesday and Thursday, Aug. 8 and 10, from 5:30 to 8:30 pm designed to help pilots prepare for the FAA certification test. As of August 2016, FAA pilot certification is required of anyone operating a drone for business purposes.
"The College of Southern Maryland is excited to offer these new courses on this emerging technology," Dr. Daniel Mosser, CSM vice president of continuing education and workforce development, said. "There are countless applications and workforce impacts expected, and we are offering the most comprehensive, up-to-date course material available so that our students can be among those who are capturing this technology's potential."
Reggie Young of Prince Frederick was a student in CSM's inaugural drone course, held earlier this year at the La Plata Campus. The initial course was a combination of the two courses being offered at the Prince Frederick Campus. "I liked the material that was presented and the obstacle course challenge to fly the drone through," he said. "I think this course could really benefit people who want to learn to fly drones who've never had any previous experience."
"The CSM program is geared to empower enthusiasts with the skills they need to enjoy flight in a safe and controlled manner whether you are a beginner or experienced pilot," Mr. Winters said. "Career opportunities for students with drone training are endless and include military drone pilot, firefighter, disaster relief, search and rescue, law enforcement, oil and gas operations, traffic reporting, agriculture, forestry, engineering, commercial contractors, film, and other industries. The world of sUAS is exploding, and CSM can provide you with the skill to be a hobbyist or begin your career in the growing commercial world."
Mr. Winters was introduced to the small unmanned aircraft program at the National Security Agency, and he assisted with the drone course offered at the La Plata Campus earlier this year as well as two courses offered at the Leonardtown Campus. He is a certified FAA pilot and has been operating sUAS commercially for five years.
The two upcoming courses were developed by CSM in partnership with SkyOps, a technology transfer company that creates training experiences that prepare the American workforce for new jobs and business models created by emerging technology. This partnership between the college and SkyOps allows CSM to lead innovation in the region by offering a nationally recognized curriculum.
To register and for more information, visit the college's website. For additional assistance, email [email protected] or call 301-539-4760.
For more about the College of Southern Maryland, visit its Leader member page.