Dozens of Works Featured in Kindred Show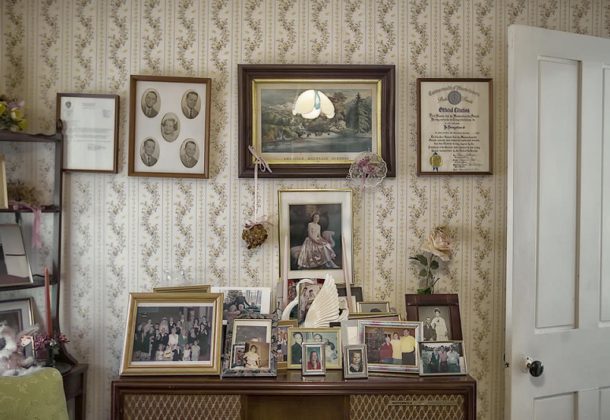 An exhibit now at Annmarie Sculpture Garden and Arts Center in Solomons invited artists to celebrate the stories, people, and places that define their lives. Dozens of pieces are being featured in the Kindred: Celebrating Our Ancestors exhibit. The exhibit will run until Jan. 28, 2018.
Do you find meaning and a sense of connection in your family tree, or in those people you consider your kindred spirits? How do the tangible and intangible remnants of past lives speak to you today? For some, delving into one's ancestry is the key to unlocking the mysteries of who and what you are. For others, creating a "family of choice" provides a sense of connection. However you imagine your family, Annmarie Garden invited artists to celebrate how they are defined by the past, and the lives of those who have come before them.
The participating artists include Brandin Baron, Camellia A. Blackwell, Marlys Boddy, Lek Borja, Beryl Brenner, Bonnie M. Bucknam, Ruth Collins, Lydia Congiu, Blake M. Conroy, Jackie Cutlip-Niles, Jess Drake, Louis Ebarb, J. Amber Egbert, Gabrielle Elkaim, Stacy Friedman, Carrie Lee Gissiner, Iris Hall-Willey, Carolyn Leo Huff, Esther Iverem, Dale O've Jackson, Ken Katzen, Ruth Keitz, Gloria Kirk, Elisabeth Ladwig, Greta Latchford, Norma E. LeVally, Karen Musgrave, Pokey Park, Win Peterman, Linda Popp, Ann Preston, Ayanna Proctor, Eric Rennie, Sharon Robinson, Trix Rosen, Jane Rowe, Chaya Schapiro, Brenda J. Silberman, Debbie Smith, Nicole Stewart, Fasai Streed, Stewart Watson, Amy K. Wendland, Monica Youn, and Alice M. Yutzy.
The exhibition juror was Betty J. Belanus, curator and education specialist with the Smithsonian Center for Folklife and Cultural Heritage.
Call 410-326-4640 for more information on Kindred: Celebrating Our Ancestors and other events at Annmarie Garden.
About Annmarie Garden
An affiliate of the Smithsonian Institution, Annmarie Garden is located in scenic Solomons, Maryland, on the Chesapeake Bay. The sculpture garden features a walking path that meanders through the forest past permanent and loaned sculpture, including more than 35 works of art on loan from the Smithsonian Institution and the National Gallery of Art. Annmarie Garden also presents a variety of award-winning special events, gallery shows, and engaging public art programs. Annmarie Garden's Studio School offers creative classes for all ages and abilities taught by a talented faculty. Annmarie Garden is located just off Route 2-4, on Dowell Road.
Annmarie Garden is open from 9 am to 5 pm daily; and the Murray Arts Building and Gift Shop are open from 10 am to 5 pm daily.
To learn more about Annmarie Garden, visit its Leader member page.