DoD Steps Up Efforts to Retain Technical Edge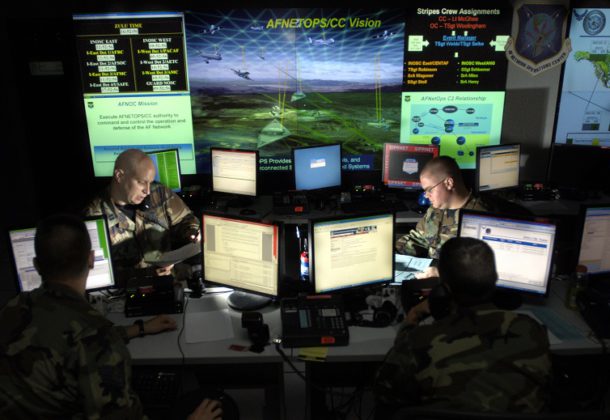 Morning Coffee is a robust blend of links to news around the Internet concerning the Naval Air Station Patuxent River

economic community. The opinions expressed here do not reflect opinions of the Leader's owners or staff.
The Pentagon is stepping up an ambitious new effort to rapidly integrate more commercial technology in DoD areas such as data infrastructure and management, cybersecurity, and machine learning, reports Defense Systems. Deputy DefSec Patrick Shanahan says retaining a technical edge is paramount.
Las Vegas reels from shooting rampage that killed 59 and wounded 527, reports CBS news. The man identified as the shooter, Stephen Paddock, previously worked for a company that later become Lockheed Martin, Yahoo Finance reports. Lockheed Martin said the retired Mr. Paddock, an accountant, was employed by a predecessor company about 30 years ago.
Chairman of the Senate Foreign Relations Committee Sen. Bob Corker expects the US will have troops stationed in Afghanistan for another decade, potentially pushing the war there into its 26th year or beyond, reports Military Times. "The entire [gross domestic product] of Afghanistan cannot support even their security forces," Sen. Corker said.
A US MQ-9 Reaper drone was shot down in western Yemen on Sunday, Military Times reports. The MQ-9 is predominately an armed hunter-killer drone but the unmanned aircraft is also capable of surveillance and intelligence collection. Yemen has been embroiled in a civil war since 2014 after a failed power handover between Ali Abdullah Saleh and President Abdrabbuh Mansour Hadi.
An instructor and student pilot were killed in a T-45 crash on Sunday  in an eastern Tennessee forest, reports Navy Times. The T-45 went down before 6 pm in the Cherokee National Forest, roughly 45 miles southwest of Knoxville, reports DoD Buzz.
The Coast Guard Cutter Stratton seizes $350 million in narcotics during a deployment in the Eastern Pacific Ocean, reports Military Times. Along with seizing more than 18,500 pounds of narcotics, the Stratton's crew interdicted 11 drug-smuggling vessels and detained more than 40 suspected smugglers for prosecution in US courts.
The US State Department has cleared a potential sale of weapons to Australia to augment that country's future procurement of the F-35A Joint Strike Fighter, reports Defense News. The proposed sale would cover up to 3,900 GBU-53/B Small Diameter Bomb Increment II, up to 30 GBU-53/B Guided Test Vehicles and up to 60 GBU-53/B Captive Carry Reliability Trainers. Also included would be maintenance, transportation, and support for the weapons.
The Fiscal Times reports why the Trump tax plan may already be in "deep trouble."
The US will ask Cuba to cut most of its diplomats, reports U.S. News & World Report. The Trump administration will ask Cuba to withdraw 60 percent of its diplomats from Washington, American officials said. The request is a direct consequence of last week's US move to cut its own embassy staff in Havana by a similar proportion. Tensions have been high since the unexplained attacks at the US diplomatic mission that have left serious health issues.
After his curt dismissal over Twitter of talks with North Korea, President Donald Trump has left many wondering — and some fearing — what his next move against the nuclear-armed nation will be, reports Japan Times.
2017 Nobel Prize in physics goes to Rainer Weiss, Barry C. Barish, and Kip S. Thorne, reports The Washington Post. The prize was awarded "for decisive contributions to the LIGO detector and the observation of gravitational waves," the committee said. "This year's prize is about a discovery that shook the world," said the Nobel committee representative Göran K. Hansson during a conference in Stockholm.
Contracts:
American Systems Corp., Chantilly, Virginia (W91247-17-D-0008); GovSource Inc., Reston, Virginia (W91247-17-D-0009); Chochise MTS Inc., Valrico, Florida (W91247-17-D-0010); Downrange Operations and Training, Ridgeland, Mississippi (W91247-17-D-0011); and General Dynamics Information Technology, Fairfax, Virginia (W91247-17-D-0012), will share in a $249,000,000 firm-fixed-price, foreign military sales (Afghanistan, Bosnia and Herzegovina, Croatia, Egypt, Greece, Iraq, Qatar, Taiwan, and Tunisia) contract to provide the Security Assistance Training Management Organization with education and training services. Bids were solicited via the Internet with 18 received. Work locations and funding will be determined with each order, with an estimated completion date of Sept. 21, 2022. US Army Mission and Installation Contracting Command Fort Bragg, North Carolina, is the contracting activity.  (Awarded Sept. 29, 2017)
Northrop Grumman Technical Services, Herndon, Virginia, has been awarded a $39,919,146 delivery order to a firm-fixed-price and cost reimbursement contract. This delivery order is for nine engine overhauls and obligates fiscal 2018 funding to support the KC-10 program. Work will be performed worldwide to include McGuire Air Force Base, New Jersey; Travis Air Force Base, California; and Tinker Air Force Base, Oklahoma; and is expected to be completed by March 2018. Fiscal 2018 operations and maintenance funds in the amount of $39,919,146 are being obligated at time of award. Air Force Life Cycle Management Center, Tinker Air Force Base, Oklahoma, is the contracting activity (FA8105-18-F-0004), (FA8106-10-D-0001).