DoD Deputy Tells House Panel: BRAC Would Increase Savings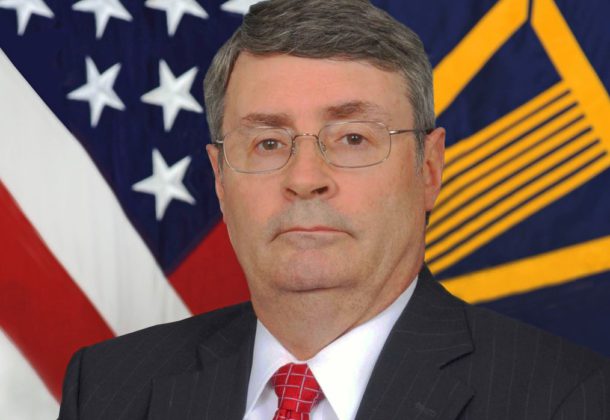 David Tillotson III, acting DoD deputy chief management officer
Morning Coffee is a robust blend of links to news around the Internet concerning the Naval Air Station Patuxent River

economic community. The opinions expressed here do not reflect opinions of the Leader's owners or staff.
DoD did not ignore a $9 million study in 2015 that found $125 billion in noncombat administrative savings, but has only found a fraction of those savings, including $7.9 billion to not be saved during the next five years, reports Stars and Stripes. A new round of BRAC could increase savings, David Tillotson III, acting DoD deputy chief management officer, told a House panel.
As the social media nude-photo scandal continues to rock the Marine Corps, Rep. Jackie Speier, (D-CA) urged all four military services to create one DoD social media policy, reports Stars and Stripes.  "[S]eparate social media policies from one service to another makes no sense," she said.
Despite a congressional mandate and agency guidance, federal managers often still discourage employees from teleworking, reports GovExec. Non-supportive managers believe it "contributes to poorer performance" compared to those who report to the office.
The White House appears unprepared for this week's 68-nation ISIS summit, reports US News. Intended to serve as SecState Rex Tillerson's first major domestic event the White House has yet to come forward with any decisions out of the Pentagon's 30-day review for changes to the war against the Islamic State group. The summit did not even come up at Monday's White House press briefing.
Florida communities could lose $3 million in DoD funding to mitigate the threat of commercial encroachment if the state fails to provide matching funds for projects surrounding Naval Air Station Whiting Field, the Avon Park Air Force Range, Tyndall Air Force Base, and Camp Blanding, reports the Saint Peters Blog.
Helicopter laser detection is improving the Navy's counter-mine operations, reports Defense Systems.
A North Korean missile exploded within seconds of launch, reports The Washington Post. South Korean and US military officials call the failure reassuring.
After several months of no US carrier presence in the South China Sea, the carrier Carl Vinson pulled into the South Korean port of Busan this month to participate in the annual Foal Eagle exercise with the country's forces. Predictably, tensions in the region have spiked, reports Military Times, with North Korea viewing the exercise as a preparation for war. It marks the first US entrance into the region since President Trump took office.

A severe shortage of pilots could ground large numbers of aircraft in US regional fleets, warned the CEO of SkyWest, the country's largest regional airline. Air Transport World reports some 18,000 pilots are expected to retire at US mainline airlines in the next three years and the pilot supply pipeline is dwindling due to the growing cost of becoming an airline pilot.
Trump goes after votes for the Republican leadership's bill to overhaul the American health care system, reports The New York Times. The vote is scheduled for Thursday, March 23, 2017. In addition to GOP opponents of the bill, Trump's cuts to environmental programs may face GOP resistance as well. Bloomberg reports on an Obama administration practice that spread billions of dollars in environmental-related contracts to Republican as well as Democratic congressional districts. Federal contract data shows $5.9B in  environmental spending reached 423 congressional districts in FY16, 47 percent to districts represented by Republicans.
Contracts:
The Boeing Co., Huntington Beach, California, is being awarded a $13,731,493 cost-plus-incentive-fee option to a previously awarded contract (N00178-15-C-2016) to continue to provide design agent and technical engineering services in support of the AN/USQ-82(V) Gigabit Ethernet Data Multiplex Systems (GEDMS) program. GEDMS is a shipboard network used for DDG 51 class destroyers. The GEDMS network transfers inputs and/or outputs for the machinery control systems, damage control system, steering control system, AEGIS combat system, navigation displays and interior communications alarms and indicators.  This contract combines purchases for the Navy (91 percent); and the governments of Australia (3 percent); Korea (3 percent); and Japan (3 percent) under the Foreign Military Sales (FMS) program. The work will be performed in Huntington Beach, California (72 percent); Arlington, Virginia (11 percent); Bath, Maine (9 percent); Pascagoula, Mississippi (3 percent); Georgetown, District of Columbia (3 percent); Richardson, Texas (1 percent); and Fairfax, Virginia (1 percent), and is expected to be completed by March 2018. Fiscal 2017 operations and maintenance (Navy); FMS; fiscal 2017 other procurement (Navy); and fiscal 2013-2016 shipbuilding and conversion (Navy) funding in the amount of $5,999,256 will be obligated at time of award and will not expire at the end of the current fiscal year. The Naval Surface Warfare Center-Dahlgren Division, Dahlgren, Virginia, is the contracting activity.