CSM Trustees Approve Plan for Regional Campus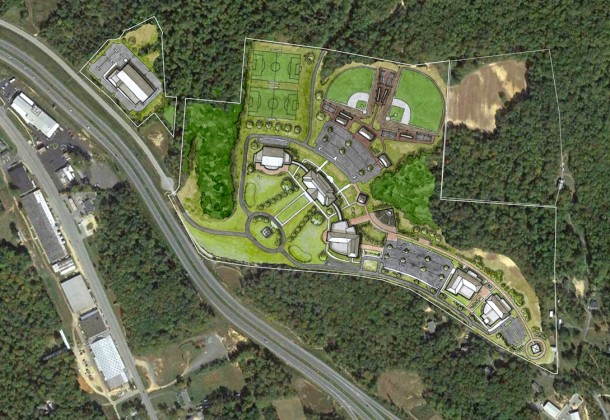 Posted for
College of Southern Maryland
Pax III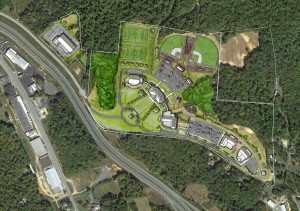 The College of Southern Maryland Board of Trustees at its May 15 board meeting approved the conceptual design and master plan for the college's new Regional Campus to be located on 74 acres in Hughesville. The campus will provide offerings and programs to serve the entire region in a more cost-effective and convenient way.
The master plan, as designed and presented by Grimm + Parker Architects, is designed to create a sense of community and includes five phases of growth. The first phase will be the construction of a Center for Trades and Energy Training, which has outgrown its currently leased 18,000-square-foot facility in Waldorf. To meet the growing needs of students and these programs, the college is planning a 40,000-square-foot facility at the Regional Campus.
"We serve Southern Maryland with a full-service campus in each of our counties and no one campus is more important than any other. We deliver a full range of academic programs and services; however, there are some programs that are too expensive to replicate on more than one campus, such as our trades programs and nursing and allied health. It makes much more sense to centralize these programs so residents of all three counties can take full advantage of them. This will allow us to operate in a very cost-effective manner, while being more conveniently located," CSM President Dr. Brad Gottfried said.
Other phases proposed for the campus and reflected in the master plan include a Health Science building, a Fine Arts building, a field house and relocation of the college's athletic fields as well as space to accommodate future needs. In presenting the master plan, Grimm + Parker's Senior Associate David Prevette said, "This is a beautiful piece of property with a gentle slope that has a lot of opportunity."  He also noted a natural sense of wayfinding and provided opportunities for gathering into the master plan.
"It will be an impressive campus to see as you drive by, with the Health Sciences Building facing Route 5 and commanding the site similar to how the Flagship Building does at the Prince Frederick Campus for passers-by on Route 231," Gottfried said during the Trustee meeting.
In addition to campuses in La Plata, Leonardtown and Prince Frederick, CSM also runs the CTET in Waldorf, the Center for Transportation Training in La Plata, and partners with the University of Maryland, University College in operating the UMUC-CSM Waldorf Center for Higher Education.
A regional community college serving Calvert, Charles and St. Mary's counties, CSM serves more than 27,600 credit and continuing education students. For information, visit www.csmd.edu.