CSM Soccer Ends Rebuilding Year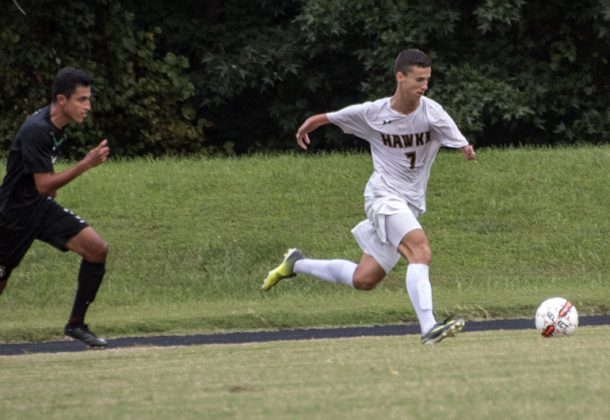 CSM Hawk Maxim Bode, far right, prepares to pass the ball.
The College of Southern Maryland men's soccer team finished its 2017-18 season Oct. 21 with a 3-0 loss to Frederick Community College in the first round of the Region XX Division I Tournament.
The men's regular year finished 4-11 overall and 3-9 in the Maryland Junior College Athletic Conference.
"This was a rebuilding year for us," said Head Coach Tony Galeano, noting that he was hired 12 weeks prior to the season's first day of training, putting the team behind in recruitment efforts. Despite this late start, Galeano said the CSM Hawks showed a lot of strengths this season that weren't necessarily evident in the win-loss statistics.
"We were very close to having a good season record-wise, having lost six games by one goal or less," Galeano said.
This season's roster included Hunter VanZandt, Spencer Ramirez, Cory Hart, Paul Burton, Andrew DiLodovico, Pierre Cornell, Ahmed Alhasan, Maxim Bode, Andrew Davila, Nathan Vaughn, Brandon Herscher, Jackson Meadows, Stephen Larsen, Ward Grove, Caristan Tokam, Samuel Bly, Ahmad Mubarak, Simon French, Thomas Henn, Stephane Tokam, and Zachary McDonough.
"We are excited for next year to build on the freshman that we have returning next fall, and our goal will be to get the program back to our winning tradition," Mr. Galeano said.
CSM Director of Athletics and Student Life Michelle Ruble is also looking to the future for the team. "With the strength of NJCAA's Region XX teams, recruiting the best players from Southern Maryland is a priority for our new coaching staff and we look to be even more competitive next year," Ms. Ruble said.
Assistant coaches for the 2017-18 season were Gary Knight and Rodney Fugitt.
For information on the men's soccer team, visit the college's website.
For more about the College of Southern Maryland, visit its Leader member page.