CSM Plans Its Diamond Decade Mania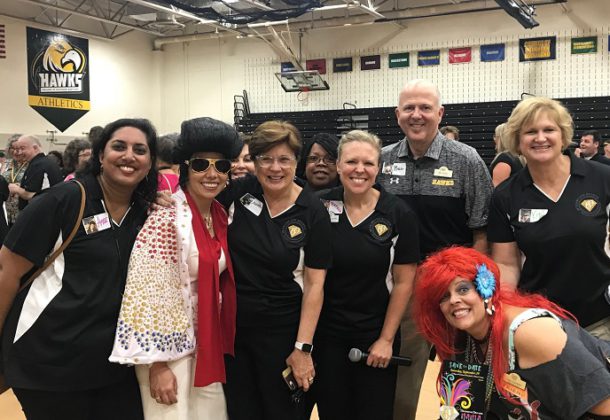 The College of Southern Maryland is planning the Celebration of the Year(s) — all 60 of them!
To mark its 60th anniversary, the CSM Foundation invites the public to join staff, faculty, retirees, and alumni for CSM's 60th anniversary Diamond Decade Mania scholarship fundraising event Sept. 29, 2018. The tri-county event begins at 6 pm on the front lawn at the La Plata Campus and includes music, food, drinks, friendly competitions, a diamond necklace raffle, and fun tributes offered in a decade-by-decade style to recognize CSM's 60 years of achievements.
Proceeds from the Diamond Decade Mania will support CSM's Diamond Scholarship and Student Services.
"If you've benefitted from attending CSM, hired students or graduates of CSM, or advanced your business thanks to CSM's high-quality educational services and assistance, consider being a Diamond Decade Mania sponsor and pay it forward to the next CSM student success story," said Brenda Lowe, CSM Foundation director and Diamond Decade Mania event chairwoman.
Diamond Sponsors generously donating to the historic event are Coldwell Banker Jay Lilly Real Estate and the law offices of Hammad Matin, P.A., both located in La Plata. Businesses, alumni, staff, and retirees are invited to become sponsors at any level and to make a difference in the lives of CSM students.
"We can't thank our sponsors enough for being a part of our unique and rewarding journey," shared CSM Foundation Chair Nancy Hempstead. "CSM pioneered the community college concept in our region and we, along with our regional partners, continue to pursue academic excellence for, and with, our students."
"Never has the role of a community college been more important than it is today," echoed CSM President Dr. Maureen Murphy, who was appointed CSM's fifth president in July 2017. "It is humbling and my honor to be the president of CSM at this pivotal moment in our college's history. I am surrounded by amazing donors, scholars, faculty, and staff, and together our commitment to providing an affordable, quality secondary education as 'one college, one region' is unrivaled."
About the only thing that comes close to CSM's strong force in the region for increasing financial stability and prosperity of Southern Maryland's residents, Dr. Murphy added, "is our promise we are going to have a fantastic time at the Diamond Decade Mania."
Plan to attend and meet Dr. Murphy and the entire CSM family at the Diamond Decade Mania event. The evening will include music by BackFin Band, beverages by Port Tobacco Marina and Restaurant and food from Crabby Hog and other food trucks. Attendees are encouraged to dress in their favorite decade or celebrity. Sponsorships and tickets are still available. Tickets are $60 each. Anyone can enter the raffle to win an 18-karat diamond necklace valued at $3,600 donated by Joson Fine Jewelry & Home Boutique. Raffle tickets are $25 each and ticket holders do not have to be present to win.
To learn more about sponsorships or purchase a Diamond Decade Mania event raffle tickets, visit the college's website, call 301-934-7647, or email [email protected]. To learn more about the history of CSM, click here.
Sponsors for the Diamond Decade Mania to date include:
Diamond Sponsors
Coldwell Banker Jay Lilly Real Estate
The Law Office of Hammad S. Matin, P.A.
Emerald Sponsors
Community Bank of the Chesapeake
Maureen Murphy and Joe McArdle
Scheibel Construction
Southern Maryland Newspapers
Amethyst Sponsors
CBIZ Benefits and Insurance Services Inc.
Dixie Miller and Jim Ritter
Joson Fine Jewelry and Home Boutique
Marianne Harms
Miles & Stockbridge P.C.
Old Line Bank
Southern Maryland Women's League
Washington Gas, A WGL Company
Topaz Sponsors
African American Heritage Society of Charles County
Bailey's Party Rentals
Birdie and Bob Shannon
Comcast
Crossroads of Hughesville Garden Club
Chuck and Kim Rosenfield
Danny and Marge Mayer
Evie and Vince Hungerford
Grimm + Parker Architects
Michelle Goodwin
Nancy Hempstead, Occasions Boutique
Port Tobacco Marina and Restaurant
SMECO
Toni Kruszka
The Wills Group
Aquamarine Sponsors
Help to Help Virtual Assistance LLC
Jehnell and Jerome Linkins Sr.
Jeff Sutten and Dennis Burks, Century 21 New Millenium
Judy and Mike Schroeder
Karen and Dale Hupp & Family
Kim and Greg Yellman
Sharon and James Buckler
University of Maryland Charles Regional Medical Center
The Diamond Decade Mania is one of several signature events throughout 2018 to highlight CSM's milestone – including concerts, the 27th annual CSM Foundation Golf Classic, and the upcoming CSM 60th Birthday Bash at the Southern Maryland Blue Crabs stadium at 6 pm Sept. 14, 2018. The CSM 60th Birthday Bash at the Blue Crabs baseball game will be held at the Legends Club within the Regency Furniture Stadium at 11725 St. Linus Drive in Waldorf. For details and free tickets (while supplies last), visit the college's website.
For more about the College of Southern Maryland, visit its Leader member page.