CSM Bricks Honor Service, Families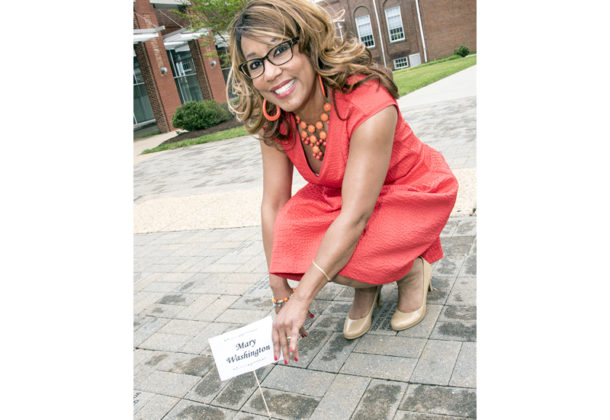 St. Mary's County Board of Education member Mary Washington kneels beside a brick dedicated in her name at the College of Southern Maryland Leonardtown Campus.
Three College of Southern Maryland campuses are home to some very special sidewalks, and newly dedicated bricks have been added to the walkways at the Leonardtown and Prince Frederick campuses.
"The CSM Foundation Brick Program provides both a way to memorialize and pay tribute to loved ones and members of the community who are our true champions," said CSM Past President Dr. Brad Gottfried to the friends, supporters, family members, and college employees gathered for the Leonardtown event April 26, 2017.
Family members and friends purchase bricks through the CSM Foundation to honor and commemorate their loved ones. All proceeds support CSM Foundation programs and scholarships.
Mary Washington, longtime member of the St. Mary's County Board of Education and education advocate, is honored by one of the new Leonardtown bricks. Ms. Washington was noted as the first African-American woman elected to office in St. Mary's County as a member of the school board in 1996.
The other four bricks at the Leonardtown Campus were placed in memoriam.
Laura and Joseph Askins, parents of Eric T. Askins, placed a brick for him. Eric was a 2016 graduate of Great Mills High School and student at the University of Maryland Baltimore County. He received his driver's education training and lifeguard training certificate at CSM. His two favorite things in life were to drive and be a lifeguard. Eric is survived by his parents and a brother, Travis.
Susan Trossbach placed a brick in memory of her brother, Dan C. Darney. The youngest of six children, Dan graduated from Great Mills High School in 1979. He worked in nurseries and on ships from the Seafarers Harry Lundeberg School of Seamanship. He was also a painter, starting a painting company that he co-owned with his brother, Fred. He was a hard worker who loved sports. He is survived by three sisters.
CSM staffer Beverley Russell placed a brick for Roland and Eva Higgs, describing the couple as "salt of the earth" people who selflessly helped others. The couple raised five biological children and a multitude of others, including Eva Higgs' younger brothers and some nieces and nephews and other "strays" that "just seemed to end up on the farm." Mr. and Mrs. Higgs later transitioned to caring for the elderly, working with the Department of Social Services and taking in those who were "unplaceable" or had special health needs. Roland Higgs died from Lou Gehrig's disease in the early 1970s, and Eva Higgs died in the mid-1990s.
A brick was placed in memory of Dennis "Scott" Mattingly by CSM staff members Toni Kruszka and Maureen Rotto-Coar, who were friends of Scott's parents, Dennis and Debbie Mattingly. Scott was caring, lovable, and friendly to everyone he met.
On the Prince Frederick Campus, bricks were placed to honor Dr. Richard H. Beers, Marcia N. Kent, and CSM Past President Dr. Brad Gottfried and his wife, Linda.
Dr. Beers retired after 14 years at CSM, where he was able to increase interest in the college's physics program. "He has grown the college's physics program and courses from seeing those students who avoided Physics I, II and III, to filling all of his classes each semester, including summers," Dr. Gottfried said. Dr. Beers created a course "Physics is Phun" to introduce CSM students to STEM and the sciences in general.
Dr. Gottfried noted that Dr. Beers also offered financial support to CSM's science program. "Dr. Beers and his wife Barbara's generosity has resulted in the Prince Frederick Campus having the best equipped physics lab in all of Southern Maryland, rivaling those at major universities," he said.
Ms. Kent works in the Administrative Business Office at the Prince Frederick Campus. "She always has a smile and a hug for those in need," Dr. Gottfried said. "This brick was donated in recognition of her dedication, continued support and years of service to the College of Southern Maryland and its students."
CSM Vice President and Dean of the Prince Frederick Campus Dr. Richard Fleming offered remarks about the brick honoring the Gottfrieds and their impact on the college as Dr. Gottfried prepares to retire.
"He is known in our Southern Maryland community for advancing the college and the many partnerships he has created to help our students, businesses and community," Dr. Fleming said, noting that the Gottfrieds have supported the college financially with annual and endowed scholarships and a recent pledge of a $100,000 deferred gift as part of their living trust.
"Dr. Gottfried has been able to establish more than 50 guaranteed articulation agreements with colleges and universities. In addition, Dr. Gottfried's vision of a centrally located campus has been realized with the opening of the Regional Hughesville Campus its first building, the new center for Trades and Energy Training," Dr. Fleming said.
An honorary brick is a lasting celebration of those who have a special connection to CSM and the Southern Maryland community. For a $200 donation, a personally engraved brick can celebrate a birthday, anniversary, retirement, special occasion, or remember a loved one. For information on the CSM Brick Program, visit the CSM Foundation's website.
For more about the College of Southern Maryland, visit its Leader member page.