Celebrate the Renaissance at CSM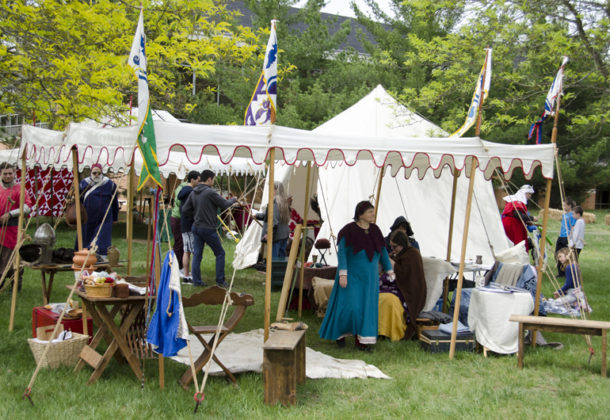 College of Southern Maryland will be inundated with lords and ladies in period costume during the college's Renaissance Festival on April 21 and 22, 2018, at the La Plata Campus at 8730 Mitchell Road.
The college is offering a variety of Ren Fest activities, including musical performances, games, mock combat demonstrations, and much more from 10 am to 4 pm on April 21 and 11 am to 4 pm April 22.
As part of the Renaissance Festival, see "The Impostures of Scapin" in the Fine Arts Building Theatre. The show will be put on at 7 pm April 20 to kick off the festival, then again at 7 pm April 21, and 3 pm for the Sunday matinee on April 22. The play's plot: In their fathers' absence, Octave has secretly married Hyacinthe, and Léandre has secretly fallen in love with Zerbinette. But the fathers return from a trip with marriage plans for their respective sons. Scapin, after hearing many pleas for help, comes to their rescue. Thanks to many tricks and lies, Scapin manages to come up with enough money from the parents to make sure that the young couples get to stay married. But, no one knows who Hyacinthe and Zerbinette really are.
The play, by Moliére, will be presented by the theater department of the college. Cost is $10 to see the play.
All other festival activities are free of admission. Food and games will be available for purchase, as priced by vendors.
That same weekend, CSM Children's Theatre will present a free production of "Around the World in 8 Plays" at 4 pm both April 21 and 22 at the outdoor stage on the lawn between the FA and LR buildings. For information, email [email protected], 301-934-7828 or visit CSM's Arts website.
Registration for fall classes at CSM will be held April 23 through 27 at all campuses. Fall registration opens April 23 for returning CSM students with 45+ credits; on April 24 for returning students with 30+ credits, on April 25 for returning students with 15+ credits, on April 26 for returning students with 1+ credit and on April 27 for new students.
For more about the College of Southern Maryland, visit its Leader member page.