Boehner to Senate: Pass Defense Budget Bills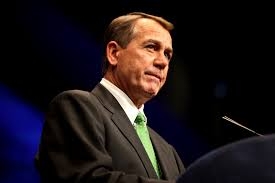 Morning Coffee is a robust blend of links to news around the internet concerning the Naval Air Station Patuxent River economic community. The opinions expressed here do not necessarily reflect those of the Leader's owners or staff.

Speaker of the House John Boehner tells the Democratic-run Senate "get serious" and pass Pentagon spending and authorization bills, reports DefenseNews. The House finished the FY14 bills months ago, but party quarreling holds up the National Defense Authorization Act in the Senate, despite approval by Armed Services and Appropriations committees. Intentions to reconsider the bill next week may be foiled with only two work weeks scheduled for December.
A bill that would exclude the DOD from sequestration fallout in FY 14 and 15 was introduced this week by Reps. Jim Bridenstine (R-Okla.) and Doug Lamborn (R-Colo.), Federal News Radio reports. The "Provide for the Common Defense Act" would require federal employees to contribute more of their salary toward their pensions and includes cuts to Medicare and agriculture subsidies, and specifies reforms for other entitlement programs.
Usernames and passwords for many popular websites have been stolen over the past month by hackers using malicious key-logging software, CNN reports. The data breach includes Facebook, Twitter and LinkedIn, who have since reset passwords for all affected users. Google, Yahoo and ADP have not commented on the situation.
Construction on the new Patuxent River Naval Air Museum and Visitor Center is about to begin, with a February 2015 goal for opening the doors, according to SoMdNews. Biscayne Contractors has been cleared to resume work on the building, which was halted due to performance bond issues.
Northrop Grumman began work on five RQ-4 Block 40 Global Hawk surveillance drones that will serve as the "backbone" of NATO's new drone fleet, reports The Hill. The long-range, high-altitude unmanned aircraft will not be used for armed operations.
NORAD's annual animated video tracking Santa Claus's global trek caught flak for planning to include F/A-18 Hornet fighter escorts for Santa's sleigh, according to the Navy Times. Child advocates objected to military hardware being included in the popular "Track Santa" program. Lt. Cmdr. Bill Lewis stated, "Guilty as charged, we tried to give it a more operational feel this year; that was purposefully done to try to highlight our mission sets." Santa will fly alone after all.
Sailors and Marines on the USS Nimitz aircraft carrier "manned the rails" Tuesday as it entered Pearl Harbor to honor those who lost their lives almost 72 years ago, reports the Navy News Service. Aviation Electronics Technician Daniel Routhier said the ceremony gave him "an immense amount of pride in the Navy, and in being able to continue the tradition of saluting the (USS Arizona) memorial."
Lockheed Martin's internal cost tracking system used by its aeronautics division was recertified by the Pentagon, according to Reuters. Improvements to the earned value management system (EVMS) resulted in DOD approval and cleared the way for the company to collect payments withheld for the past 3 years.
BAE Systems in Australia will begin fabrication of titanium aircraft tail parts in January for Joint Strike Force (JSF) fighters, reports news.com.au. A $20 million, 200 ton machine went online this week and is expected to produce 20,000 components over the next 20 years.