Block Party Shares Magic of Recovery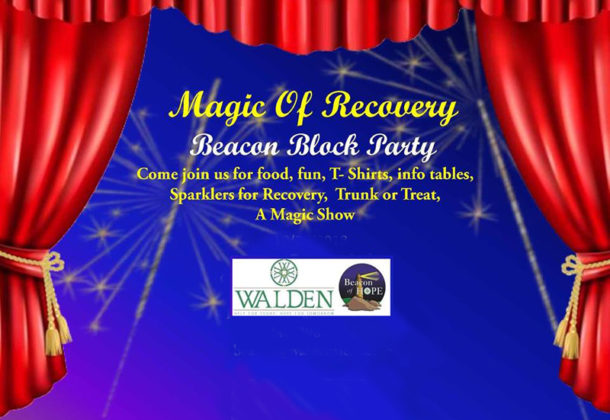 Walden Beacon of Hope Recovery and Wellness Center and Walden Behavioral Health are taking a seasonal slant to their next public event with the Magic of Recovery Block Party on Friday, Oct. 26, 2018. The event will be held from 4 to 7 pm at Beacon of Hope Recovery and Wellness Center in Millison Plaza at 21770 FDR Boulevard in Lexington Park, Md.
All members of the public are invited to come out for this free, fun, and family-friendly block party that will celebrate the magic of recovery. Activities will take on a fall, Halloween theme and include Trunk or Treat, a costume party with prizes, a DJ, delicious food, magical entertainment, information tables, and give-away items. Event T-shirts will be available for the first guests while supplies last.
Beacon of Hope Recovery Community Center is free to anyone 18 or older who is interested in recovery and wellness. Services at the location include all of Walden's recovery and Lifespring meetings; Fit for recovery; the Mental Health First Aid program; fun events, outings, and activities like the one listed here; computer access; SMART Recovery Friends and Family weekly meetings; Garden of Life Survivors Support Group; Recovery Coaching (1-1 peer support); and is the location of unaffiliated 12-step meeting groups like Alcoholics Anonymous, Narcotics Anonymous, DRA, EA, and CODA.
Get up-to-date information about the Magic of Recovery event in October on the organization's Facebook page.
About Walden Behavioral Health
Walden provides an array of crisis, behavioral health, recovery, and trauma services to the Southern Maryland community.
Since 1973, Walden services are designed to provide clients with the help they need, when they need it. Walden has a full continuum of services to ensure each client's journey is planned and delivered with continuity of care in mind. It operates from locations across Southern Maryland in Waldorf, Charlotte Hall, Lexington Park, and California.
24/7 Hotline: 301-863-6661
Appointments: 888-912-7366
For more information about Walden Behavioral Health, visit its Leader member page.