Arlington Cemetery Reaching Capacity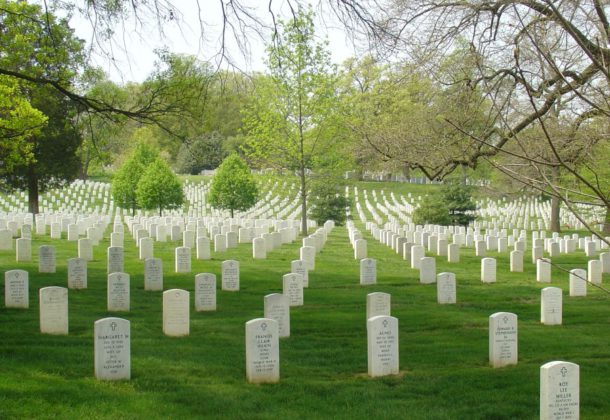 Morning Coffee is a robust blend of links to news around the internet concerning the Naval Air Station Patuxent River

economic community. The opinions expressed here do not reflect opinions of the Leader's owners or staff.
At the current rate of 7,000 a year, Arlington Cemetery will be completely full in 25 years, reports The New York Times. More that 420,000 veterans and their relatives are buried in the national cemetery.
China is developing next-gen nuclear weapons — averaging five blast-simulation tests a month — at a much faster rate than the US, which conducts similar tests less than once a month, reports Politico, which notes the story is from its content partnership with South China Morning Post.
A Politico investigation finds the US government was aware of China's strategy of using private investors to buy American technology. The six-month investigation found the committee charged with protecting US technology from foreign governments hasn't the mandate or resources to do the job.
The US defers a new sanctions push against North Korea aimed at reviving a summit between President Donald Trump and North Korean leader Kim Jong Un, reports The Wall Street Journal.
Military Times reports the Senate Armed Services Committee included bipartisan proposals to fix juvenile justice on military installations and protect student victims at Pentagon-run schools in DoD's annual authorization bill.
C4ISRnet reports Europe's first medium-altitude, long-endurance drone used satellite navigation. Moving beyond line-of-sight navigation and reliance on a European satellite is important to the European group of manufacturers building the Piaggio P.1HH. The drone flew out of Trapani airport in Sicily and used data links provided by a European satellite, reports Defense, a contentious issue between the UK and the EU.
Washington Technology is calling for fast-growing small business contractors to compete for their 2018 Washington Technology Fast 50. Fill out an application here.
Starting June 4, people can apply to purchase one of the 8,000 M1911 pistols the US Army is making available for civilian purchase this year, reports Stars and Stripes. The pistol was the Army's weapon of choice for 80 years, from World War I through Operation Desert Storm. This is the first time they will be sold on the civilian market. The Army is expected to save about $5,000 per year in storage fees as a result of the sale.
The officer in charge of the John S. McCain when it collided with the oil tanker Alnic MC pleaded guilty to dereliction of duty and was sentenced to to a letter of reprimand and forfeiture of $2,000 per month for three months from his base pay of $9,009 per month. "Don't be the eleventh casualty of McCain," Navy judge advocate Capt. Charles Purnell told Cmdr. Alfredo J. Sanchez. "You still have a lot to contribute."
As Memorial weekend approached, Fort Bragg added 12 more special op fatalities to the US Army Special Operations Command Memorial Wall, including the four soldiers who died in Niger earlier this year, reports The Fayetteville Observer. The wall holds the names of 1,218 soldiers from Special Forces, civil affairs, psychological operations, Rangers, and other special operations units since World War II. "Neither the words nor the deeds of the living can adequately honor the actions and commitment of those who gave the last full measure of devotion for the nation," Lt. Gen. Kenneth E. Tovo said.
Contracts:
CGI Federal Inc., Fairfax, Virginia, was awarded a $31,625,285 modification (P00035) to contract W911S0-15-C-0004 for US Army Training and Doctrine Command G2 operational and environment core functions support services. Work will be performed in Fort Eustis, Virginia, with an estimated completion date of May 31, 2020. Fiscal 2018 operations and maintenance Army funds in the amount of $23,888,389 were obligated at the time of the award. US Army Mission and Installation Contracting Command, Fort Eustis, Virginia, is the contracting activity.
Leidos Inc., Reston, Virginia, is awarded a maximum $28,511,148 indefinite-delivery/indefinite-quantity contract with cost-plus-fixed-fee task orders for research support services at the Naval Submarine Medical Research Laboratory in Groton, Connecticut. Work will be performed in Groton, Connecticut, and is expected to be completed as of May 31, 2023.  Fiscal 2018 research, development, testing and evaluation funds in the amount of $265,000 will be obligated on task orders immediately upon award and will not expire at the end of the current fiscal year. This contract was competitively procured via the Federal Business Opportunities website, with one offer received.  The Naval Medical Logistics Command, Fort Detrick, Maryland, is the contracting activity (N62645-18-D-5049).