Almaraz Is Regional Golden Gloves Champ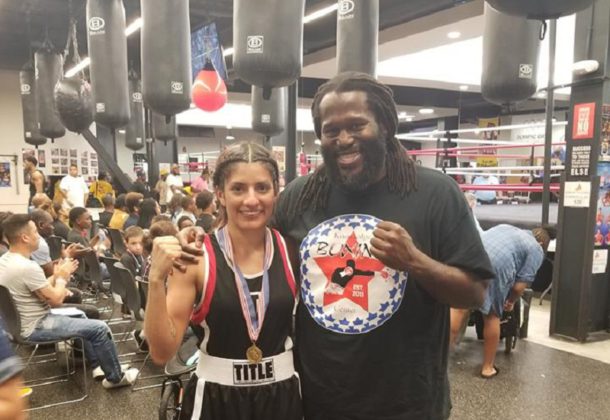 Knowledge Boxing Center's own Phyllis Almaraz became a 2018 Golden Gloves Regional Champion in the 112-pound novice division on April 28, 2018.
The region includes Maryland, Delaware, Virginia, North Carolina, and Washington, DC.
Ms. Almaraz, who became the DC, Maryland, and Delaware champion by walkover at Rosecroft racetrack in Oxon Hill, earned a hard-fought, three-round unanimous decision over the tough Virginia/North Carolina champion Kayla Jackson in Norfolk, VA. Ms. Almaraz applied all of her skills acquired at the Knowledge Boxing Center in Lexington Park under Daryl Hinmon, head coach, and John Richardson, assistant coach.
"Phyllis goes about her work in the gym with steadfast integrity and high intensity. Her character is of the highest caliber, and she is an absolute joy to coach," said Mr. Hinmon. "She ran all the miles, sparred all the rounds, and completed all the conditioning exercises we asked of her and more. All the hard work paid dividends during the bout. Phyllis is a born leader and a great asset to Knowledge Boxing where she willingly mentors some of our junior athletes. We look forward to our progress as a team and couldn't be more proud of her."
In the past 10 months, Ms. Almaraz said she has learned so much about the art of boxing through Knowledge Boxing Center.
"My two coaches, Coach Daryl and Coach John, have not only taught me about boxing but they have also have also thrown so much life knowledge my way," she said. "I've always had a good work ethic and try my best to perform any job to the best of my abilities, but the sport of boxing is another level. Once you get in the ring, there is nowhere to hide, and that's where you find out what you're truly made of. Going through the training day-in and day-out, then applying all my acquired skills under duress in the ring has really sharpened my character."
Ms. Almaraz said finding out that she had a fight matched up in Norfolk was probably the best feeling she had had in a long time.
"I knew that it was finally my time to show all the hard work and training in the ring. I remained focused that day and told myself that no matter the outcome of the fight, I would still 'win' because I would know I did my very best," she said. "At the end of my fight all I was thinking about was taking deep breaths and how amazing it felt to compete. What made that feeling even better was seeing the smile on my coach's face when they announced me as the winner of the Regional Golden Gloves competition."
Ms. Almaraz said she knows she can have an impact others, and hopefully inspire more women to join amateur boxing.
"But most of all I made myself and my mother proud," she said.
The mission of Knowledge Boxing Center is to develop its students into disciplined and productive citizens through Olympic-style competitive amateur boxing. Everyone who participates in the program will have a high probability of becoming a healthy, confident, disciplined, and productive member of the community by developing the habits of success, said Coach Hinmon, a founder of the organization.
To learn more about Knowledge Boxing Center, call 301-481-2978 or click on the Knowledge Boxing Center link provided above.
The center is at 21310 Great Mills Road, Lexington Park, MD 20653.