Aerial Refueling Tests Go Well at Pax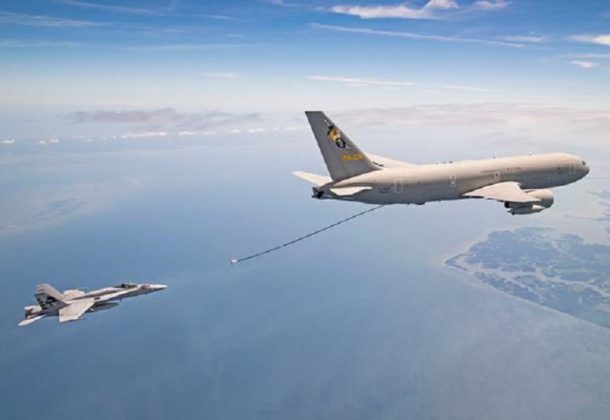 Morning Coffee is a robust blend of links to news around the Internet concerning the Naval Air Station Patuxent River

economic community. The opinions expressed here do not reflect opinions of the Leader's owners or staff.
NAS Patuxent River hosted a successful air-to-air refueling between an Italian Air Force KC-767A tanker and the US Navy's fighter aircraft, Airforce-Technology.com reports. The test was conducted to authorize the KC-767A to refuel the F/A-18 Hornet and Super Hornet, AV-8B Harrier, and EA-6B Prowlers. "Testing is going very well and we are encouraged by the results we have seen so far with the F/A-18," Erin Kennedy, PMA-201 aerial refueling class desk engineer, tells NAVAIR News. "In the weeks ahead, we will conduct additional flying quality evaluations."
The Orbital Antares rocket launch has been postponed until 7:40 tonight from Virginia's Eastern Shore, USA Today reports.
An RQ-7 Shadow unmanned aerial vehicle was catapulted into flight during a validation exercise at Sabre Army Airfield earlier this month, The Fort Campbell Courier reports. The exercise was the first time a Shadow UAV was launched from Sabre and was the culmination of more than two years of collaboration between the 101st Combat Aviation Brigade and the FAA. Up to now, Shadows were relegated to launch and recover from a restricted-military air space.
The Navy showed off its newest class of ship, the Zumwalt-class guided-missile destroyer, Oct. 13, two days before its commissioning ceremonies in Baltimore. The newest warship looks like none that have gone before, a massive 15,000-ton guided-missile destroyer that is larger than some World War II cruisers, Seapower magazine reports.
A new Navy combat ship, the USS Detroit, has docked on the Detroit River for a week of public tours, events, and a commissioning ceremony, the Detroit Free Press reports. It's the sixth Navy warship named for Detroit. "She is a fast, agile ship designed for a variety of missions in coastal waters as well as humanitarian relief missions," according to the Navy.
Lockheed Martin has rolled out 174 F-35s, and after years of delays, cost overruns, and 68,000 flight hours, these jets are now in the hands of military services across the globe. Now that the aircraft is reaching operational benchmarks and is in the hands of a growing number of aviators around the world, "we can begin to see if the F-35 will deliver on its promise of becoming an asset to coalition warfare," reports The Cipher Brief.
"Outranged and outgunned" by Russian and Chinese missiles, Breaking Defense reports, the US Army wants a new long-range artillery rocket of its own. The Long-Range Precision Fires program could do much more than replace the ATACMS missile.
With Japan stepping back from decades of state pacifism amid concern over China's growing power and a deepening threat from North Korean, Japanese defense companies are finally shedding their reluctance to sell arms abroad, Reuters reports.
Marine Corps Times  reports that ISIS has deployed flying IEDs, meaning drone warfare has entered a new chapter. With adversaries successfully delivering explosives via cheap, commercially available unmanned aircraft,  the US military must go on the defensive.
It's been more than 25 years since the Navy officially recognized a ship crew at sea for coming under enemy fire, Military Times reports. The recent attacks from the Red Sea – when an enemy cruise missile came within one minute of impacting a ship – will likely make thousands of sailors eligible for Combat Action Ribbons.
D.C. Mayor Muriel Bowser said the technology industry is rife with opportunity, and the District could breed its own talent while also inviting young companies to set up shop in the city. She said the District can no longer rely on the federal government for economic growth and needs to "put its flag in the ground" of the tech world, The Washington Times reports.
Happy birthday, USNA! The Chief of Naval Operations ADM John Richardson offered this
video message
on the occasion of the Navy's 241st birthday late last week.
Contracts:
Thales Defense & Security Inc., Clarksburg, Maryland, has been awarded a $14,057,654 modification (P00003) to previously awarded contract FA8730-15-C-0015 for three additional Deployable Instrument Landing System (D-ILS) production representative units as part of a risk reduction effort. Contractor will provide deployable glideslopes, deployable localizers and the containers for the electrical gear. The D-ILS will provide the Air Force an equivalent of a fixed based instrument landing system capability at tactical airfields, and at airfields where permanent D-ILS capability has been disrupted by events such as natural disaster or humanitarian relief efforts. Work will be performed at Clarksburg, Maryland, and is expected to be complete by Jan. 17, 2019. Fiscal 2016 other procurement funds in the amount of $12,857,487 are being obligated at the time of award. Air Force Life Cycle Management Center, Hanscom Air Force Base, Massachusetts, is the contracting activity.
Intrepid Solutions and Services Inc., Sterling, Virginia, has been awarded a $45,370,000 firm-fixed-price, indefinite-delivery/indefinite-quantity contract for National Air and Space Intelligence Center information technology support services. Contractor will provide a full spectrum of technical support to NASIC to maintain, enhance, and operate the current infrastructure encompassing user accounts, workstations, independent networks, circuits, storage, and servers to incorporate new capabilities necessary to meet future requirements. Work will be performed at Wright Patterson Air Force Base, Ohio, and is expected to be complete by Oct. 31, 2022. This award is the result of a competitive acquisition with seven offers received. Fiscal 2017 operations and maintenance funds in the amount of $5,011,013 are being obligated at the time of award. Air Force Life Cycle Management Center, Wright Patterson AFB, Ohio, is the contracting activity (FA8604-17-D-1000).