Blazer Wins Webster Field Construction Contract

Morning Coffee is a robust blend of links to news around the Internet concerning the Pax River economic community. The opinions expressed here do not necessarily reflect those of the Leader's owners or staff.
Blazer Enterprises is being awarded $1.6 million for the construction of Unmanned Aircraft System at Webster Field.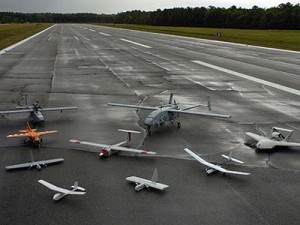 Drone industry group AUVSI puts spurs to the FAA (PDF) over designation of unmanned aircraft testing zones, for which Southern Maryland is in the running. Meanwhile, the American Security Project releases a report finding that unmanned aircraft are currently only slightly cheaper to operate than manned aircraft, according to US News.
The former spokesman for the V-22 Osprey program says he predicted crashes would occur in Defense Tech.
The bigger, badder MQ-8C Fire Scout will have a new data link, according to Defense Update.
Small contractors face a world of uncertainty if sequestration goes through, according to GovWin. Federal News Radio reports that President Obama is not expecting a sequestration deal before the election. Republicans are getting no help from anti-tax crusader Grover Norquist, who stated that defense spending does not create jobs, according to AOL Defense.